Whole Grain Pumpkin Spice Muffins
kindcook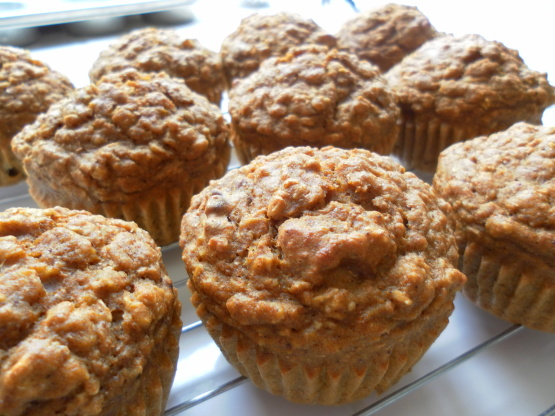 Mm, we can't get enough of these at our house. It is not a superduper sweet muffin, but a muffin where the flavors of the ingredients come out. And it is just sweet enough to fulfill that certain longing for something sweet. Yet is is pretty low sugar and packed with healthy ingredients. Of course you can omit the raisins or the walnuts, but I think they're perfect as-is. :) My own recipe. I love to tinker with muffin recipes. These have a beautiful crown and a gorgeous color. And of course they make the house smell heavenly when they're baking.

Top Review by noway
I love that these are so healthy with no white flour or oil! I've made these twice now, the first time your way, and I found it not sweet enough and the clove taste too strong for me. The second time, I increased the cinnamon to 1.5 tsp and the brown sugar to 1/2 cup and that made them 5-stars for me. Thanks for posting an excellent recipe that I will make again and again!
1. Mix all ingredients, pour into one 12-cup muffin pan. Bake at 400 degrees for 15-20 minutes or until done.