White Chocolate Cheesecake
chia2160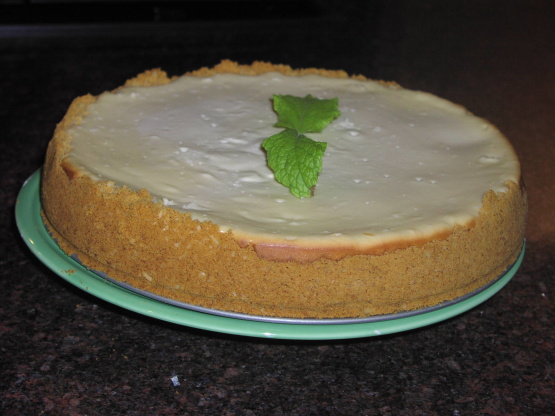 This looks so pretty and tastes delicious!!! I can imagine it at a bridal luncheon or even as an untraditional wedding cake. Great for Canada Day with the Red/White of if you want to make a Red-White-and Blue cake for the 4th of July, make it one pint raspberries (or strawberries) and 1 pint blueberries. But make it over the summer, when fresh berries are readily available, for sure.

This is a spectacular recipe. I thought it might be overwhelming with all that cream cheese AND the white chocolate, but it just have it a subtle richness. I served it for company and they were in awe and said it was better than anything they had eating out. I also thought that it seemed like too many berries to put it, so I didn't put a full two pints in, but wished I had - they all would have fit just fine. I also didn't clarify the butter - I wasn't sure how - and the crust was still fine. Thanks for a YUMMY recipe! -Jen Roth
Make crust: In processor, blend crumbs and almonds until almonds are ground fine.
Add butter and combine well.
Press into bottom and 2/3s up sides of 10 inch springform pan.
Preheat oven to 300 degrees F.
Make filling: Melt chocolate; stir until smooth.
In a large bowl, beat cream cheese until light and fluffy.
Add sugar and beat in whole eggs and egg yolks, one at a time, beating well after each addition.
Beat in the flour and the vanilla and add the melted chocolate in a slow stream, beating, until the filling is combined well.
Scatter raspberries over bottom of crust, pour filling over, and bake cheesecake for 1 hour, or until top is firm to the touch. Turn off oven and leave cheesecake in closed oven for a further 1/2 an hour.
Let the cheesecake cool and then chill it, covered loosely, overnight.