Bobtail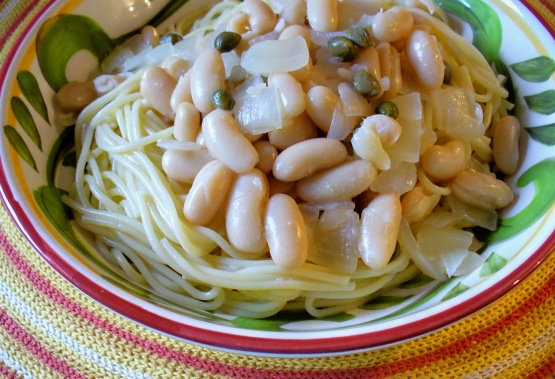 Mmmm, lemony piccata ... who says it can only be made with veal or chicken? This version uses white beans (navy or cannellinis work well). Capers are optional ... I personally can't stand them, but they are a typical piccata ingredient, so use if you like. Serve with fresh hot spaghetti noodles.

Enjoyed this tasty dish. It actually took much less time to make than the recipe suggests. Minced the onions and garlic. Then started the oil heating while I got the broth going. By that time the oil was hot enough to add the onions and garlic. Gave that a good stir and while it was doing it's thing, I got the rest of the ingredients ready. Then it was time to add the flour and follow the rest of the steps. I wanted to add some color and also didn't want to have to fix a salad or other side, so after the sauce thickened, I add two big handfuls of freash spinach, covered the pan and let that sit for about 5-6 minutes until the spinach wilted. I'd thought about serving with rice because beans and rice is a combo I'm more familiar with, but I'm glad I stuck with noodles because the sauce really clung to the pasta well. Two things I would do different next time is use more beans and less lemon juice. We did use capers and that might be why the tartness was a bit too strong for us. Thanks for sharing!
Saute onions and garlic in olive oil in a medium saucepan until transparent- do not allow to brown.
Slowly stir in flour and cook and stir until combined and"rawness" is gone.
Combine hot broth and water; slowly whisk into flour mixture until smooth and slightly thickened.
Add lemon juice, salt, beans and capers (if using).
Cook and stir until thickened a little more (mixture will thicken more upon cooling and once mixed with pasta).
Serve with hot spaghetti noodles.