Watermelon, Tomato and Cheese Salad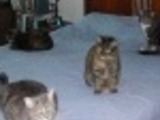 What's the watermelon doing in this recipe? That's what I asked myself too, but it's an awfully good combination! I've made this several times, and it's based off of a recipe I cut out of the NY Times a while ago. Really nice for a spring or summer side dish.
Directions
Combine watermelon, tomato, cheese, scallions and salt in a bowl.
Whisk together 2 tablespoons of watermelon juice, oil, vinegar and cayenne and gently toss with salad.
Garnish with cilantro or parsley.
Most Helpful
I made this exactly as posted and unless the cilantro rather than parsley makes a HUGE difference this was NOT GOOD. At best it's ok. Tomato and watermelon just don't go together.
Wow, we were so surprised, but this was really good! I added some fresh mint and left out the scallions and swapped Balsamic for the Sherry Wine vinegar since that's what I had available. Very good and refreshing.
Wonderful. I used cherry tomatoes and goat cheese, left out the scallion since I didn't have any. Like everyone else said, it sounds strange but tastes wonderful. I used a very creamy goat cheese, next time I might use a more crumbly feta.