Kathy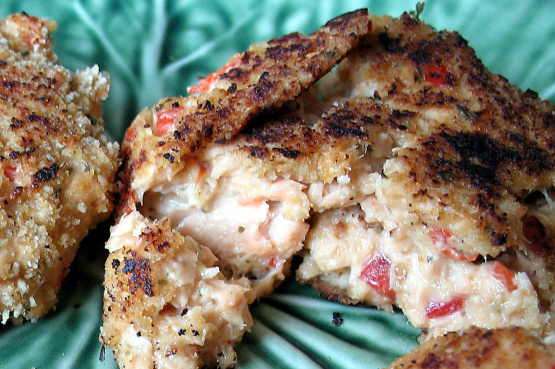 These are amazing. My husband couldn't believe I made them the first time we ate these. These are truly restaurant quality and so easy too! This recipe was given to me by an online friend.

Excellent recipe. I microwaved a large salmon fillet instead of using canned salmon. I left out the red bell peppers since I didn't have any. And instead of spraying the patties with Pam, I put about 1/4 cup of olive oil in my frying pan. I worked in two batches and each took about 7 minutes. They were very flavorful but only mildly spicy (more wasabi powder would be in order for those who like it hot). I enjoyed the fritter-like texture/consistency. What an all around delicious treat--thanks for posting this!
Mush the top ingredients together in a big bowl; Adding extra breadcrumbs till the texture is workable.
Roll into balls and flatten into patties.
Press the patties into the extra breadcrumbs.
Spray tops with Pam, flip and spray bottoms.
Cook in large skillet over medium-high heat until nice and brown and firm to the touch.
You can use the same technique with Tuna.
I like that to have an italian flavor, so I take out the wasabi and soy and add basil and oregano and shredded mozzarella.
They are great with pasta sauce.