Derf2440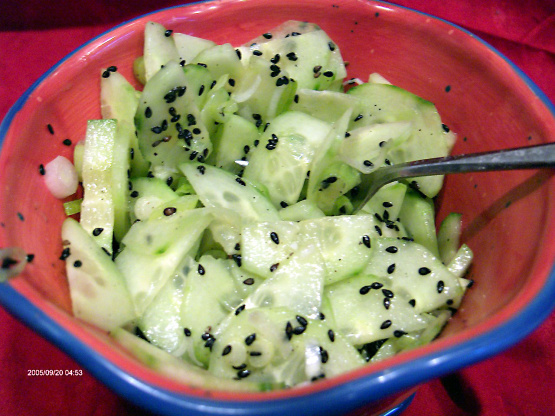 with an asian flair, this is wonderful as a first course or a side dish to tame the heat of spicier dishes.

Very nice, I cut the sesame oil in half (I thought it was fine with that amount and feared much more would be overpowering) and added just a splash of low sodium soy sauce. I just love a summer salad (so flavorful, btw) that won't spoil in the summer heat like a mayo based salad will. Thanks for sharing!
Mix the wasabi with 1/2 teaspoon warm water in the bottom of a mixing bowl and let it stand for 5 minutes.
Peel the cucumbers, cut each one in half lengthwise, and use a melon baller or spoon to scoop out the seeds. slice thinly widthwise.( if using english hothouse just cut in half lengthwise and slice thinly).
Add the vinegar and sugar to the wasabi and whisk until smooth.
Whisk in the sesame oil, salt and pepper. Just before serving, add the cucumbers, green onion, and sesame seeds to the dressing and mix well.