CIndytc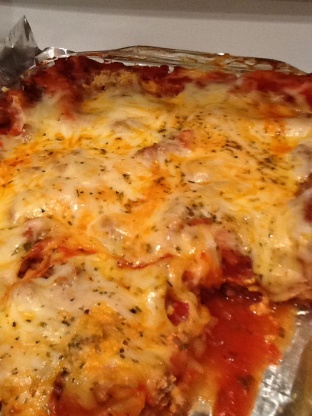 I love this recipe! You don't have to cook the lasagne noodles, separately, and it always turns out great! I got the recipe from a box of Skinner lasagne noodles, years ago, and I've been making it, this way, ever since!

I love this recipe off of the Skinner box. What's great about not having to boil the noodles is that I can smear the cheese mixture on the hard noodles and then turn the noodles face down and then cover with the meat mixture. Unbelievably easy! When my son was with his Army buddies in Afghanistan and they would reminisce about the foods back home that they missed the most, it was 'my' lasagna he would talk about. Thank you Virginia...whoever you are.
Preheat oven to 350 degrees.
Brown beef in 3 quart saucepan; drain, and add sauce and water; simmer about 10 minutes.
Combine remaining ingredients, except lasagne, for filling.
Pour about 1 cup sauce in bottom of 9X13 pan.
Layer 3 uncooked lasagne noodles on top of sauce; top with about 1 1/2 cups sauce, and 1/2 of cheese filling.
Repeat layers of noodles, sauce, and filling.
Top with a layer of noodles and remaining sauce.
Cover with foil and bake for 55-60 minutes.
Remove foil; bake another 10 minutes.
Allow to stand for 10 minutes, to make cutting easier.