Barilla No-Boil Lasagna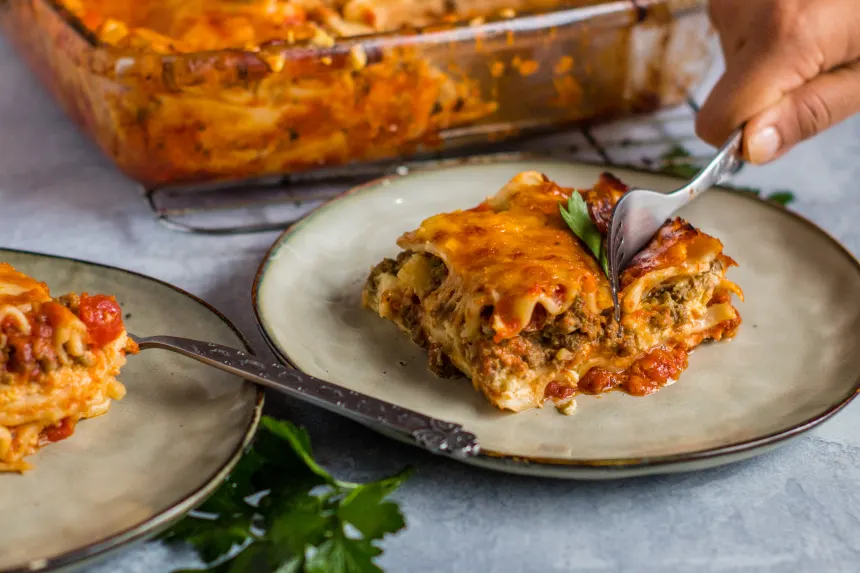 photo by limeandspoontt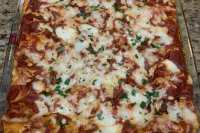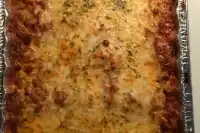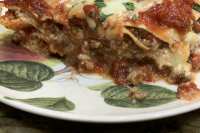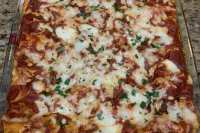 Ready In:

1hr 30mins

Ingredients:

8
directions
Preheat oven to 375.
In bowl, combine beaten eggs, ricotta cheese and TWO cups of the mozzarella cheese and parmesan.
If you choose not to use the parmesan, just add more mozzarella.
Set aside.
In a 13X9X3 pan, spread 1 cup of sauce on bottom of pan.
Layer in the order, 4 uncooked lasagna noodles (they will overlap), then 1/3 part of the ricotta cheese mixture, half the browned meat, 1 cup mozzarella cheese, and 1 cup of spaghetti sauce.
Next layer, 4 uncooked lasagna noodles, 1/3 part of the ricotta cheese mixture, and 1 1/2 Cups sauce.
Next layer, 4 uncooked lasagna noodles, remaining ricotta mixture and remained meat, 1 cup of sauce.
For top layer, 4 uncooked lasagna noodles, remaining sauce, and remaining 1 cup mozzarella.
Bake covered with foil for 50-60 minutes.
Uncover and continue cooking until all the cheese is melted on the top (about 5 minutes).
Let stand 15 minutes before serving.
If you are using a 13X9X2 pan---just make 3 layers to avoid boiling over.
Questions & Replies

Reviews
I'm not going to rate this since I didn't try your recipe but wanted to pass on a hint to those who use the no boil noodles. The noodle are a great invention but I suggest using more sauce than you usually would in your traditional recipies and consider cooking your lasagna covered for at least half of your cooking time. The extra moisture will reduce the chewiness that can result by using the no boil noodles. Definitly a lot quicker than making the traditional way.

 

I've been making this recipe for years and it truly is great as is .... BUT it is BETTER if you have a little extra to spend on it for a special occasion.<br/><br/>Use the ingredients as on the original recipe ... BUT I use a pound of lean ground beef PLUS a pound of mild italian sausage (cooking them together).<br/><br/>Drain the meat and mix it with the 2 cups of Mozarella called for in the layering process.<br/><br/>Add an additional 15 oz. Ricotta to the meat & Mozarella mixture.<br/><br/>Add an additional 1/2 jar of sauce.<br/><br/>Finally, since the Mozzarella is all in the meat mixture, top the casserole with 1 c. of fresh Parmesean. <br/><br/>No additional baking time is required. <br/><br/>It's really hearty and my husband loved it.

 

This was really good! Pretty much followed the recipe but I made my own sauce, and browned the pound of beef with three hot Italian sausages that I took the casing off of. Think I used more sauce than called for and a bit more mozzarella as well.....this came out great. The pasta definitely expands and fills the pan edge to edge when finished

 

I've used this recipe for a long time, using extra sauce, especially around the edges which carmelizes nicely, and using my meatball recipe for the meat. Barilla has changed the box recipe to something else so I'm glad someone put it on-line. As far as the recommendations to freeze it before baking, I have always baked the whole pan, then sliced up entrée-sized chunks to freeze for a quick microwave dinner. Never noticed a lack in quality from freezing and kind of feel it's a waste of electricity not to cook enough to freeze some for later.

 
Tweaks
Very easy to veganize: 1 pack tofu crumbled with salt to taste instead of ricotta. Follow Your Heart vegan parmesan. Vegan mozzarella shreds (I used a mix of Daiya and 365 brands). 1 pack Beyond meat ground instead of beef. Follow Your Heart vegan egg. It came out really delicious! It's so easy to be vegan today when you can have something that tastes almost exactly like the food you loved when you ate animal products! Also, I might try with Just Egg and ground Impossible meat in the future just to see how it turns out!

 

Very good! I have never used the Barilla no boil pasta before, think I will from now on. This was very easy to put together, did one pan for us and one for a friend having surgery - put together and cleaned up in less time than my sons nap! It was a bit less "saucy" than I like, I will use more pasta sauce next time. I also substituted about 2 links sweet italian sausage for some of the beef, cooking it with onions and garlic in the pan with the beef. Sprinkled some italian seasoning in with the cheese mix and used pregrated parm/asiago/romano mix vs straight parm. Turned out very yummy.

 

I've built off this one by adding a pack of frozen spinach and Italian seasoning (a generous tablespoon) to the cheese mixture, and then instead of assembling in a 9 x 13 pan, I put it in three separate loaf pans (check to make sure the noodles fit in the bottom, some are small). I agree as written the recipe can be a bit bland, so liven it up as you like (i use half mild and half hot sausage). These smaller tins freeze brilliantly... defrost 24h before cooking and then extend cooking time from 60m to 70 or 75 per current package directions. A great weeknight dinner for two (plus usually a lunch serving, depending on appetites).

 
RECIPE SUBMITTED BY
Hi! I was introduced to this great site by my friend Chef WJKING. I'm excited to swap recipes with you! I'm a SAHM to 6 year-old Olivia and 2 yr. old A.J. and wife to Armando. My hobbies are: scrapbooking, reading, cooking/collecting cookbooks & recipes, geneaology and photography. My favorite all-time cook-book was given to me as a gift from my good friend/cook Alisa...Julia Child's "The Way to Cook". These recipes are easy, high-flavor and extremely adaptable. She gives you lots of options and variations with 1 recipe.
View Full Profile