Easy Lasagna With Cottage Cheese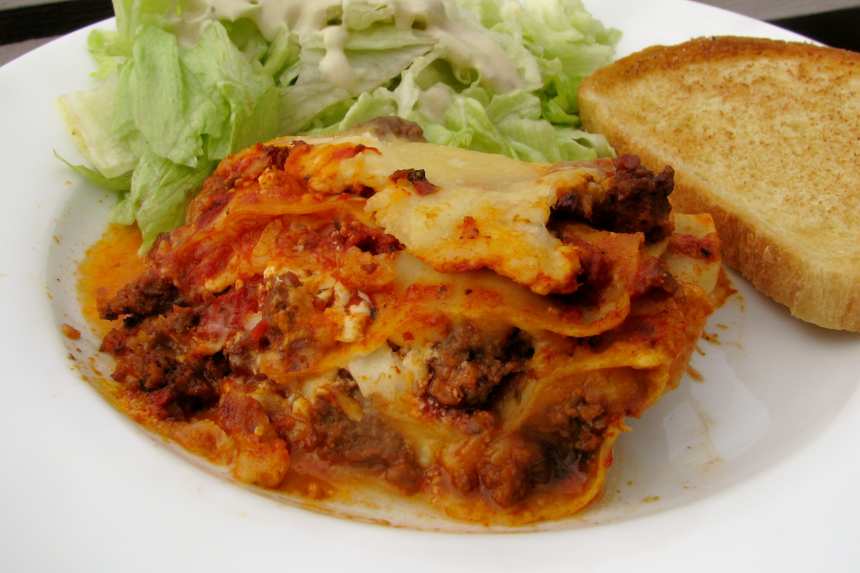 photo by lazyme

Ready In:

1hr 20mins

Ingredients:

6
directions
Brown the ground beef.
Spread 1 cup of spaghetti sauce in the bottom of a 2-quart, oven-safe dish.
Pour the rest of the sauce in with the ground beef and cook until warm.
Layer 2 noodles, 1/3 of the meat, 3/4 cup of cottage cheese, 1/2 cup mozzarella; repeat. For the last layer, use the final two noodles, meat, mozzarella, and parmesan cheese on top.
Cover baking dish with foil and bake at 350 for 1 hour.
Reviews
There are so many great ways to make lasagna and this recipe is no exception. I pretty much followed the recipe but added a few things. I put a beaten egg into the cottage cheese, added a layer of mushroom and pepperoni, and used WAY more cheese than what was necessary (if that's possible.) I've never used cottage cheese, I've always used ricotta but this time I only had cottage cheese on hand. It came out gooey, greasy, and wonderful. Thank you for sharing your take on this classic dish and happy holidays to all.

 

3 1/2 stars. It was a bit bland using ground beef alone. I think a mixture of half Italian sausage and ground beef would work well. The type of pasta sauce makes a difference too. I used Prego Italian sausage and garlic meat sauce and it helped, but still could use a bit more spice. Next time I will add some Italian seasoning or even a little red pepper flakes. You could also add Parmesan cheese, basil and oregano to the cottage cheese for more flavor. This was a breeze to make and because of that I will make this again, but with some slight changes. The consistency was perfect, not too dry and not to loose.

 

I made the recipe as directed, and I give that method 3 stars. I experimented with different pasta sauces and discovered they have a significant effect on how this recipe tastes; so test a few before one decides how much they like this recipe. So far the pasta sauce I liked best for this recipe is Kroger Tomato and Basil Pasta Sauce. If one likes the lasagna to be spicy add some crushed red pepper to the pasta sauce, to taste.<br/><br/>I made 3 simple changes that got this recipe to 4.5 stars.<br/><br/>>First, I added 222 g of hamburger (2 frozen hamburger patties) to the sauce. Preparing the hamburger took 2 easy steps:<br/>1) Place the frozen hamburger patties on a microwave safe rack and microwave on high for 7 minutes (or until the center of each patty is at least 74°C). If not using a microwave safe rack, drain the fat from the cooked hamburger patties.<br/>2) Grind the hamburger. Using a food processor with the slicing blade, slice the hamburger patties. Next, grind the hamburger to a coarse texture using the multipurpose blade.<br/><br/>Second, I changed the cottage cheese to Kroger Part-skim Ricotta cheese.<br/><br/>Third, I did not cover the baking dish with foil during baking; which make a delicious, crispy, slightly toasted cheese crust on the top.<br/><br/>I found that I could quickly prepare (boil) dry lasagna noodles by microwaving them on high in water for 9 minutes. They come out undercooked to exactly the correct firmness so that they become al dente while baking, from absorbing the water in the pasta sauce. The first time I made this recipe, I cooked the dry pasta until it was al dente, before placing it in the baking dish, and the lasagna came out runny.<br/><br/>I love how easy this recipe is to make fresh lasagna. If I were to rate this recipe alone on how easy it is to make, I would give it a very solid 5 stars.

 

Can you freeze Lasagna? It's just me and my hubby and we can't eat much of it at all, it's so filling!! I have it in the oven now, hoping it's as good as it smells. I added some hot pepper flakes, a little texas pete, I guess you know we love hot and spicy foods. One of my friends said spicy foods was like having a party in your mouth!!!!!!! lol #HAPPYCOOKING

 
Tweaks
I brown the ground beef, add 1 med. diced onion, fry until the onion softens then add a tablespoon of chopped garlic and one of dried basil, and 1 or 2 tsp of dried chili peppers...to your taste.... I stir that all together then add the jar of prepared sauce, a large tin of diced Italian tomatoes or stewed tomatoes and a large bay leaf. Cover the sauce and simmer for a half hour.