Vegetarian West African Soup
Parsley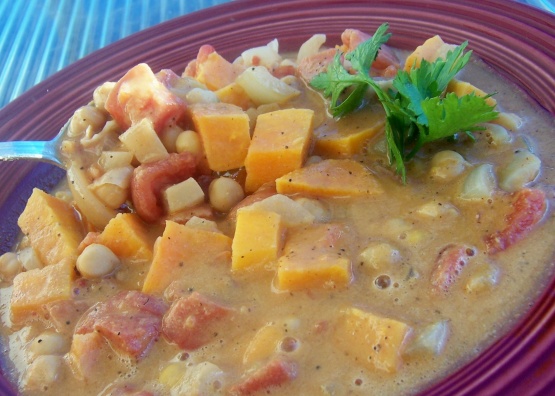 This appeared in Cooking Light two or three years ago.

Fantastic! If you want to break away from the same old veggie soup, this is the recipe to try! Very easy and oh sooooooooo yummy! Even my three year old gobbled it up and said "YUM!" I used 1/2 cup natural chunky peanut butter instead of the roasted peanuts. I tasted the soup prior to adding cumin, and the taste was fabulous. I wanted to avoid making the soup taste like chili, so I only added a pinch of cumin, just until I could barely taste it. We opted to cut the sweet potatoes into smaller chunks, but made no other changes. Perfect on a cool winter day.
To make peanut butter, process peanuts in food processor about 2 minutes until smooth, scraping the bowl at least once.
In a Dutch oven over medium heat, sauté onion in oil about 7 minutes until lightly browned.
Add peanut butter plus sweet potato through tomatoes.
Bring to a boil, reduce heat and simmer, uncovered, about 30 minutes until sweet potato is tender.
Serve garnished with parsley.