Vegetarian Mi Goreng (Indonesian Fried Noodles)
kleigh83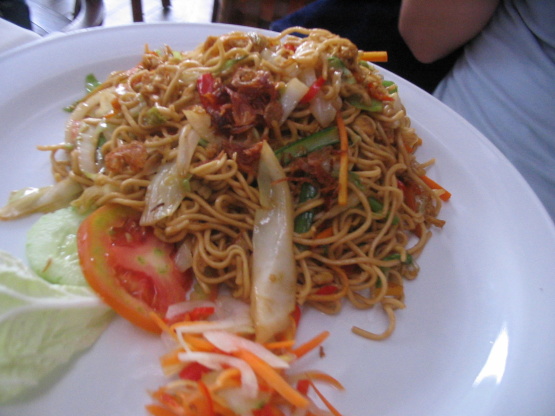 This was a favorite in the hostel that I lived in and we were lucky enough to have the real stuff in Indonesia. You can just buy the 20cent ramen packets and not use the flavorings. That works just fine, and I recommend the eggs more than the tofu... but whatever floats your boat.

I added quite a bit more veggies than called for. I used grated carrot, broccoli and snow peas. This is an easy recipe to make and has lots of flavour. Thanks for the recipe
1

lb uncooked soba noodles (ramen work great and are inexpensive) or 1 lb any other kind Asian noodles (ramen work great and are inexpensive)

2 -4

tablespoons peanut oil

1

onion, finely chopped
1⁄2 inch gingerroot, peeled and grated
1 1⁄2 cups snow peas
1 1⁄2 cups mung bean sprouts

3

tablespoons ketjap manis (or 3 tbs soy sauce mixed with 1 1/2 tbs brown sugar)

1 -2

tablespoon sambal oelek chili paste or 1 -2 tablespoon cayenne pepper, to taste

2

eggs, scrambled (recommended) (optional)

1

lb firm tofu, drained and cubed (optional)
Prepare the noodles according to the package directions; drain and set aside.
In a wok or large skillet, heat the oil and add the onion, garlic, and ginger; stir fry until the onion is limp.
Stir in the leeks or scallions, snow peas, and bean sprouts, and cook until tender-crisp.
Then stir in the noodles, kecap manis, and sambal or cayenne.
Add the eggs or tofu.
Mix throughly until heated through (about 5 minutes).
Serve hot.