Kathy228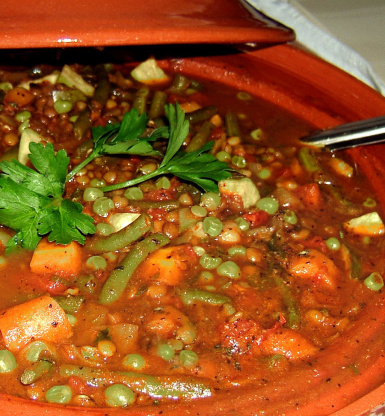 the perfect vegetarian dish! serve with couscous.

A very nice recipe. Makes a lot of food. Served on a bed of quinoa. I added extra spice.
29.58

ml butter or 29.58 ml extra virgin olive oil

2

medium onions, diced

2

small fresh chili peppers, thinly sliced

14.79

ml paprika

2.46

ml cayenne pepper

4.92

ml ground cumin

236.59

ml dried lentils

4

tomatoes, peeled,seeded and chopped

59.14

ml tomato puree

236.59

ml chickpeas, cooked or canned (if canned, drain and rinse)

236.59

ml carrot, cut into 1/2 inch dice

354.88

ml green beans, cut into 1 inch pieces

1

zucchini, cut into 1 inch dice

177.44

ml frozen green pea

118.29

ml flat leaf parsley, chopped

14.79

ml za'atar spice mix
salt and pepper, to taste.
In a medium or large saucepan over medium heat, warm the butter or oil.
Add the onions and chilies and cook until the onions begin to soften, about 10 minutes.
Add the paprika, cayenne and cumin and continue to sauté until the onions are tender and fragrant, a few minutes longer.
Add the lentils, tomatoes, tomato puree and water just to cover.
Simmer for about 20 minutes.
Add the chickpeas, carrots, green beans, zucchini, and green peas.
Simmer until tender, about 10 to 15 minutes more.
Note: this recipe can be prepared in advance up to this point.
Allow to cool, refrigerate and serve within a couple of days.
Add the parsley and zaatar during the last five minute of cooking.
Season to taste.
Transfer to a warm serving dish and serve immediately.