Hadice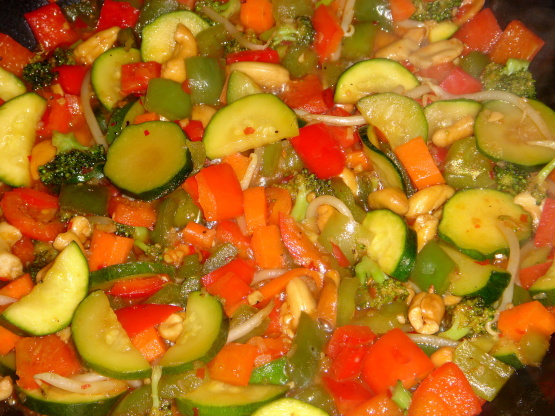 This is another gem to add to your vegetarian collection. It is healthy, easy to make, and delicious. Adapted from "Cookshelf Vegetarian" Tip: Cut all vegetables the same size so they cook evenly.

Excellent! As a new bride to a husband that's a vegetarian this was a big hit! Loved it and will do again very soon. Thanks!!
Heat oil in a wok until oil is almost smoking.
Add the onion and garlic and stirfry for 30 seconds. Take care not to burn the garlic.
Stir in peppers, broccoli, zucchini, and carrots. Stir fry for 3 more minutes.
Add bean sprouts, brown sugar, soy sauce and vegetable stock (add chilli sauce and cashews here is desired).
Add a dash of salt and pepper and cook an additional 2 minutes. Serve immediately with noodles or rice.