Vegan Oatmeal Cranberry Cookies (Sugar Free)
Debbwl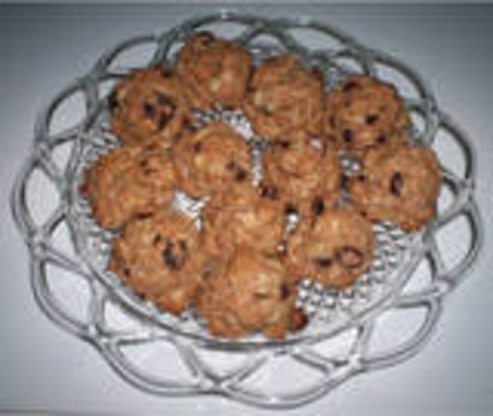 I was looking for classically delicious vegan oatmeal cookie recipe, that was lower in fat and sugar--I stumbled upon one that needed a lot of tweaking and this is what it has become. Everyone who has tried these loves them and you can't even tell that these are vegan, or sugar free to boot. Happy baking!

Top Review by Debbwl
These are good. Will be making these again as they are healthier then regular oatmeal cookies and we did enjoy them. However do not think these could go toe to toe with regular oatmeal cookies at a pot luck. Defiantly want to be careful not to over cook and to cool on the pan (baked on silpad) for best results. Thanks so much for the post.
Preheat oven to 375.
These can be made with just a bowl and a spoon--overmixing will make them spongy, so start by mixing the dry ingredients together and then add syrups, oil, vanilla and cranberries.
Spoon onto lightly greased, parchment or silpat surface. Bake for 10 or less minutes, until just turning slightly brown on edges--cookies may seem a bit too soft, but they will firm up a bit while still maintaining a good soft moist texture.
Be careful not to overcook (or yes, they will be dry and hard)!