V for Vendetta's - Eggy in a Basket!
Devin C.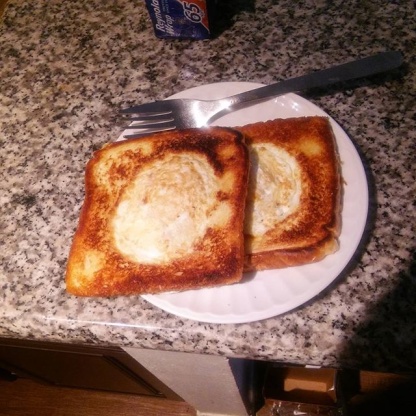 Besides being one of the most amazing movies I've seen in a while, V for Vendetta features the simplest, most CRAVEABLE breakfast dish I think I've ever seen. In the movie, "V", in his jaunty kitchen apron, so lovingly prepares this charming breakfast dish for Natalie Portman's character. By the movie's end, I was craving so badly, that I made it for our breakfast for the next two days!! Please feel free to use ANY bread you have on hand. I also like to make these on my large nonstick griddle, but you can prepare them 1 or 2 at a time using a non-stick frying pan.

Top Review by ImPat
A nice simple breakfast dish that brings back childhood memories - I used wholemeal/wholegrain bread and toasted one side first in the toaster on crumpet setting and then lightly sprayed a non-stick frypan with oil spray (to cut down saturated fat) put the uncooked side down and put the egg in the whole and also put the cut out bits uncooked side down to brown off and cooked for a few minutes till white was set though my yolk cooked more than I would have liked but only because it broke as it went into the pan but still had a bit of runny yolk to mop up with the cut out bit of toast. Thank you Kosmic Blue for breakfast and averybird for the recommendation, made for I recommend tag game.
Butter bread slices on both sides.
Cut an approximately 2 inch circle in the middle of each slice, using a cookie cutter or small glass.
Place buttered bread slices on a non-stick griddle pan, preheated over medium heat.
Add a bit of butter to the center of the bread, and gently crack your eggs into the hole.
Sprinkle eggs with salt and freshly ground pepper to taste.
When the eggs begin to set around the edge of the hole, flip.
Finish cooking eggs as you prefer (over easy or over medium).
The buttered bread "centers" can be grilled or toasted as well to sop up the extra yolk!