Rheanne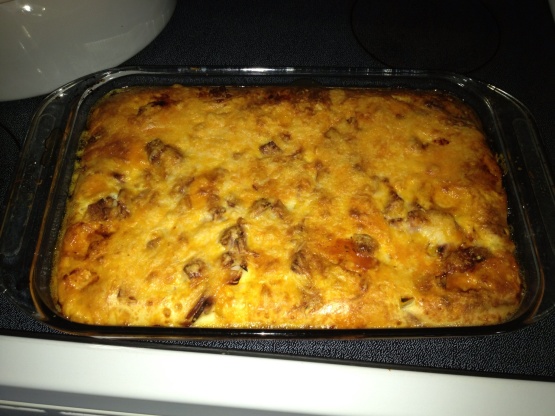 This is very good and my whole family loves it.

EXCELLENT! I made this for dinner tonite & it was wonderful. I only made a couple of changes: I added JIMMY DEAN lite (50% less fat) sausage (itz the real stuff), 1lg sweet white onion, 1lg green pepper, cut. I stirred the onion & pepper in after I drained the cooked meat & sauted about 4min. They mainted some crunchiness after the dish was finished. I sprinkled some oregano & a little italian seasoning on top of the meat mixture. I then sprinkled about 12oz of mozzarella & fresh parmesan cheese & used xlg refrig. crescent rolls for the top. YUMMY!! Thanx for such a great recipe & idea. BTW, given a scale of 1-5, my roommates gave it a 10..I think they are still patting their tummies..LOL
Preheat oven to 350.
Meanwhile, brown ground beef and onion; pour off grease.
Blend in pizza sauce, garlic salt and oregano.
Put mixture in 9x13 inch pan and sprinkle with mozzarella.
In small bowl, mix eggs, milk, oil, salt and flour.
Pour over meat mixture and sprinkle with Parmesan.
Bake 30 minutes.