Unbelievable Onion Garlic Soup With Cheese Crisps
Rita1652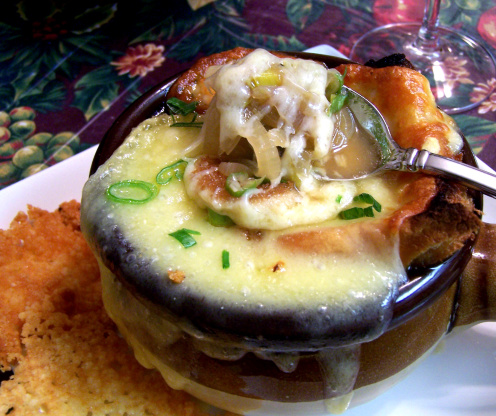 Louis XIV more over or join me in enjoying my soup. I tried to get ever type onion I could find in my grocery store into this soup. Nine of the ingredients are in the genus Allium family. If you want to stick to one, two or 9 kinds of onion thats fine. But do give it a try! The rich flavor of the base is from the caramelized onions so be sure to have time for them. Sherry is used to enhance the caramelized onion flavor and to deglaze the pan. Bread slices need to be completely dry and toasted to hold the yummy cheese and stay afloat.

I made this for dinner last night and followed the directions exactly. I did leave out the shallots & leeks b/c the grocery store in my town is very limited in their produce, but I did use pearl onions, red onion & yellow onion. If I could have found Vidalia's I would have loved to use those too. I read through the directions before starting, and was a little confused by step 3, when it said "stir in inches� I decided that this probably meant "stir in chives� and it worked out ok. While it was simmering, I took a few sips and it seemed to be missing something, so I added a couple dashes of Worcestershire sauce. It still seemed to be missing something and so I added a tiny bit of red wine. That didn't do the trick either. It still tasted good, it just seemed to be missing the taste that I get when I have other onion soups. I would definitely make this again, and maybe try adding more butter or maybe some different spices. I skipped doing the parmesan crisps because I didn't' have real parmesan cheese, but I did use the gruyere to broil over the top. Its always fun to try new recipes, so I did have fun with this. Thanks for posting it.
2

tablespoons butter

2

tablespoons olive oil

1

teaspoon brown sugar

1

large vidalia onion, sliced

1

large Spanish onion, sliced

1

large white onion, sliced

3

leeks, white only, sliced, and rinsed well

1

large red onion, sliced

2

shallots, diced

8

garlic cloves, minced

1

tablespoon flour

2

sprigs fresh thyme

1

large bay leaf

1

teaspoon fresh rosemary, chopped
1⁄2 cup sherry wine

1

cup champagne or 1 cup dry white wine

4

cups low sodium beef broth
1⁄2 teaspoon black pepper

6

slices bread, toasted
1⁄2-1 lb gruyere cheese

6

tablespoons parmesan cheese, grated

Garnish

2

scallions, sliced

1

bunch fresh chives
In a heavy bottom pot melt oil and butter over high heat add the brown sugar and the onions from the vadillas to the red onions lower heat to medium. Cook slowly stirring occasionally until caramelization begins at which point the onions are cooked until melting the sugars in the onions, thus causing browning. About 30 minutes.
Add the shallots and garlic cooking for 5 more minutes. If you have time go 30 minutes more of cooking to bring out the complex flavors of the onions sugars.
Sprinkle the flour over the caramelized onions and stir in completely.
Add thyme, bay leaf, rosemary, salt and pepper.
Deglaze with sherry and champagne.
Add broth and simmer 20 minutes.
Remove bay leaf.
Place the soup crocks or ramekin on a shallow baking pan. Soup evenly into ramekins. Place bread lightly on top and place cheese on bread.
On the baking pan right along side the ramekins but not touching sprinkle the parmesan cheese in 6 piles.
Broiled in a ramekin until gruyere is melted and bubbly. Keep an eye on it! The cheese on the soup may be done before the parmesan crisps are. So remove the soup while the crisp brown.
They will be golden and soft when done. Remove gently to a dish and they will crisp up before you know it! Serve along side the soup which is garnished with chives and scallions.