Hey Jude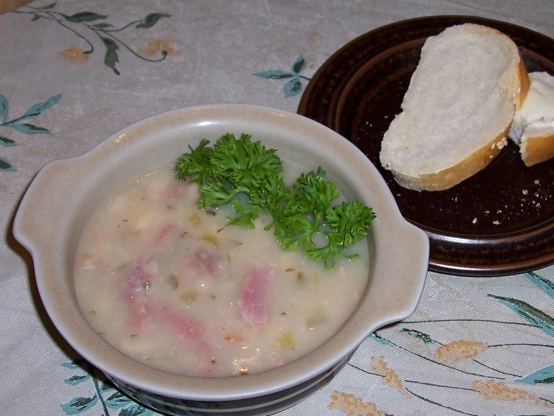 Served in the dining room of the U.S. Senate.

Once again Inez, you have submitted a delicious recipe! This is perhaps one of the best bean soups I have ever eaten. My only negative comment is that I thought 3 onions would be a bit much, so I used only one. It turned out well. I think 3 onions would just overwhelm the flavor of this great soup.
Put beans and enough water to cover in pot.
Bring to a boil, and boil for 2 minutes.
Remove from the heat and soak for 1 hour.
Drain and rinse beans.
In large pot, put beans, ham bone, and 3 quarts water.
Bring to a boil.
Reduce heat,cover and simmer for 2 hours.
Add next 5 ingredients.
Add salt and pepper to taste.
Simmer for 1 hour.
Remove hambone.
Remove meat from bone and cut in small pieces.
Return to pot.
Heat through.