Twice-Baked Potato Casserole With Green Chiles
DuChick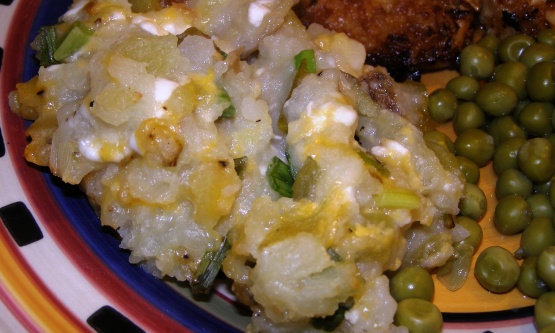 I created these to serve alongside grilled chipotle chicken breasts and a salad. Wouldn't be a bad addition to any meat dish. These taste more sinful than they actually are! I typically use either red or russet potatoes, though I imagine any type would be fine. This can also be made in the microwave for a pretty quick side dish. Since there's only two of us eating, I typically freeze half for another dinner.

Very tasty! Robyn, you're right that these taste more sinful than they really are...no one would ever suspect the difference. I baked my taters the night before, so I needed to heat the dish about 45 minutes to get it hot throughout. I only used 1/2 can of green chiles since we're not huge chile lovers. I'm already looking forward to leftovers! MERP'd for Spring PAC 2011.
Cook potatoes in a 350 degree oven for about an hour, or until soft.
Place the potatoes in a greased casserole dish and add the milk and cottage cheese.
Mash together with a potato masher.
Gently stir in the remaining ingredients (you don't want to stir too much otherwise the potatoes will become gummy).
Cook in oven until heated throughout.