Kathy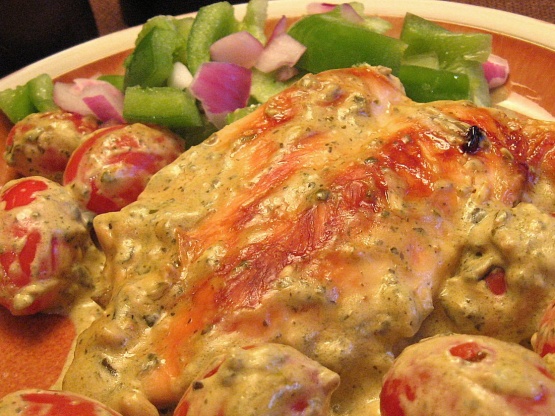 This recipe is from an email from Kraft Food & Family. KRAFT KITCHEN TIPS: Healthy Living Save 50 calories and 5 grams of fat per serving by preparing with PHILADELPHIA Neufchatel Cheese, 1/3 Less Fat than Cream Cheese and KRAFT 2% Milk Shredded Reduced Fat Mozzarella Cheese. Serving Suggestion - Spoon over hot cooked ravioli or fettuccine.

This is resturant quality! And I just noticed I forgot the cheese. Ugh! I added mushrooms, garlic, pepper, a litlle season and garlic salt. Next time, I would take out the tomatoes and put zucchini instead of mushrooms. Not big on the tomatoes. The mushrooms got lost in it. I did add more water to make more sauce. Put over pasta but next time I would try over a little rice and double sauce. Or no carbs! The sauce is amazing! This was the first time I have had pesto. Will be making this again. Thanks!!!!
HEAT large nonstick skillet sprayed with cooking spray on medium-high heat. Add chicken; cover skillet with lid. Cook 5 to 7 minutes on each side or until chicken is cooked through (165ºF). Remove chicken from skillet; keep warm.
REDUCE heat to medium. Add cream cheese, water, pesto and tomatoes to skillet. Cook, uncovered, 2 minutes or until heated through, stirring occasionally.
RETURN chicken to skillet. Cook and stir 1 minute or until chicken is coated and heated through. Sprinkle with shredded cheese.