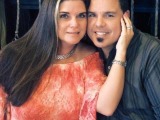 From Southern Living Magazine, December 2006. This recipe is unique because it uses a frozen pecan pie, thawed. You could always make your own pecan pie. My favorite pecan pie on Zaar is Caramel Pecan Pie.
8 ounces mascarpone cheese, softened (you can substitute an 8 ounce package of cream cheese here if you want)
1 1⁄2 cups whipping cream
1 1⁄2 teaspoons vanilla extract
2 lbs frozen pecan pie, thawed and cut into 1-inch cubes
1⁄3 cup chocolate fudge topping
1⁄3 cup caramel topping
1⁄2 cup chopped pecans, toasted (optional)
Directions
Beat mascarpone cheese, whipping cream, and vanilla extract in a large bowl at medium speed with a heavy-duty electric stand mixer, using the whisk attachment, 2 to 3 minutes or until smooth and firm.
Place half of pie cubes in bottom of a 4-quart trifle dish or tall, clear 4-quart glass bowl.
Spread half of whipped cream mixture over pie cubes.
Drizzle with half each of chocolate fudge topping and caramel topping. (You might need to zap the fudge and caramel topping in the microwave for 15-25 seconds to get them to drizzling consistency).
Sprinkle with half of chopped pecans.
Repeat layers.
Cover and chill at least 1 hour and up to 8 hours.
**Cook time does not include toasting the pecans, defrosting the pie, or refrigeration time.
Most Helpful
I made this for Christmas dinner. My future son-in-law loved it so it will become a tradition. Welcome to the family!

Made this for my family's christmas get together. Huge hit. I forgot to toast the pecans but it was still yummy! Thanks for a great & easy recipe!
My mother and I made this for Christmas last year, it was absolutely WONDERFUL. It is very sweet - but isn't that what you want for a holiday desert to guarentee you make it to that food coma!