Turkey Sweet Potato Pie ( Shepherd's Pie)
Rita1652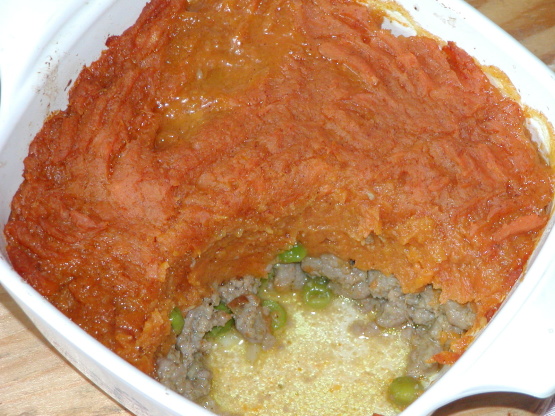 A twist on the shepherds pie. AHHHHHHHHH Sweet Comfort food! This is made with sweet potatoes and ground turkey and a good hint of curry!Good to make with your leftover Thanksgiving sweet potatoes and turkey. You can even put a layer of stuffing in, top with some pecans.....

This was excellent, and my husband and I both loved it even though I had to make changes due to my current dietary restrictions (replaced buttermilk with coconut milk, and omitted butter, olive oil, and curry powder). A delicious, fairly simple, and wonderfully flexible recipe, that I look forward to making the "original" way very soon.
Boil sweet potatoes till tender add honey, buttermik, butter,cinnamon, salt and pepper to taste.
Mashing till smooth.
Set aside.
Saute in oil the onions, garlic, and turkey till just under done.
Add curry, salt, pepper, sage, sprinkle flour over turkey mix and pour in the milk.
Add the peas.
In a butter 8x8 casserole pan lay meat mixture then place potatoes over meat covering all to seal.
Top with dabs of butter.
Bake in a 350 degree oven for 15-20 minutes just to slightly brown top.