Catnip46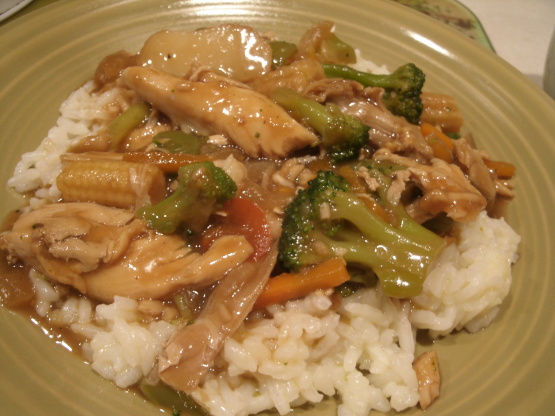 Greetings! I'm a brand new member to Zaar. Without a doubt, this is the "best" recipe site on the net. I am in awe at the amount of wonderful things to cook and bake. I thought I would start out with one of my simple recipes. Here is an easy skillet meal to help use up all that leftover holiday turkey we all have. Of course, you can substitute chicken or pork also.

This was a great way to use leftover turkey. I had added my frozen chunks to the pan and it worked great. I didn't have broth so used powdered bouillon with water. I doubled the recipe, too. This was was a real comfort meal. Thanks ugogirl, for posting. Roxygirl
In a large skillet, cook onion in oil over medium heat about 5 minutes.
Add celery and garlic and cook 5 minutes more.
Add turkey, mixed vegetables, broth and peas; cover and cook 5 minutes.
Mix remaining ingredients together and add to skillet.
Turn heat up to medium high.
Cook, stirring constantly 2 to 3 minutes until sauce is boiling and thickened.
Serve over chow mein noodles with rice and additional soy sauce if desired.