ladypit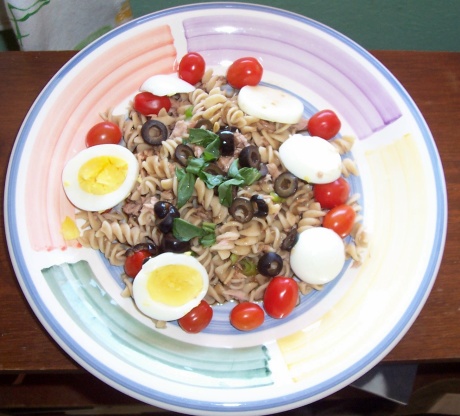 Delicious and healthy Italian salad.

I really loved the concept for this salad. I tweaked it a bit though because I thought the proportions were not exactly what I like. I added more tuna and used less pasta (plus I used whole wheat). I loved the dressing but cut down on the olive oil a bit. I also, on the second day, served it over a bed of spinach leaves and it was very very good. A nice salad!
Cook pasta in boiling, salted water until done.
Drain and rinse under cold water.
Mix pasta, tuna (drained) and spring onion in bowl.
Mix olive oil, vinegar, lemon juice, garlic, and sugar in a cup.
Spoon pasta mixture onto a plate.
Arrange egg and tomato around the edge.
Drizzle on the dressing.
Scatter olives and basil over the top.
Season.