Nimz1466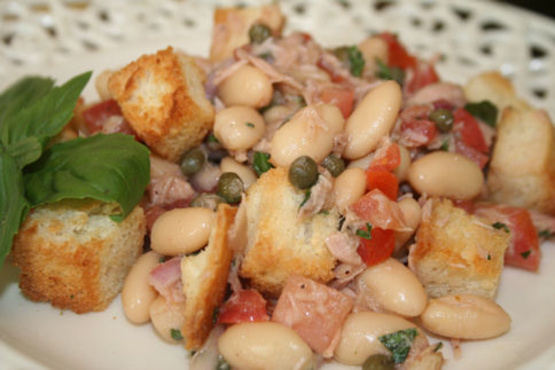 This is a light and refreshing tuna salad that I sometimes make instead of a mayonnaise tuna salad.

This was very different for us and the flavors went well together. My first time using white kidney beans and I liked them. I added some red onion and didn't chop the capers. I also used French Bread instead of the Italian bread. I only used 2 medium sized tomatoes and I thought that was plenty. Next time I'll use a little more tuna. Thanks for sharing. Made for Aussie Swap March 2010
Preheat oven to 400 degrees F. On 15 1/2" by 10 1/2" jelly roll pan, or a large cookie sheet, spread bread cubes in one layer. Place in oven; toast 11-13 minutes or until golden, stirring cubes once halfway through baking. Cool on wire rack 10 minutes.
Meanwhile, in large bowl, with fork, mix olive oil, wine vinegar, chopped capers, 1/4 teaspoon salt, and 1/4 teaspoon freshly ground black pepper until blended. Add chopped tomatoes, white beans, flaked tuna, torn basil, and bread cubes to bowl; toss well to coat all ingredients with dressing.
Serve.