Tropical Coconut and Banana Shrimp
Ambervim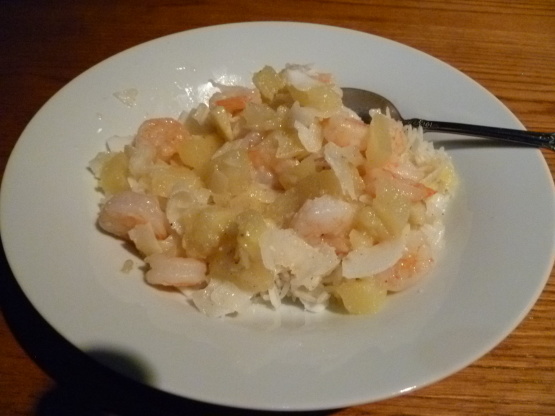 A light dish that is wonderful for summertime or for dreaming about being at the shore. It blends the flavors of coconut, pineapple, and banana that complement each other so well. I use cooked tail-off shrimp and canned pineapple as it makes the preparation much shorter
Drain juice form pineapple can into bowl with shrimp in it and set aside.
Prepare rice as directed on box and add 1/4 cup of coconut to water while cooking.
Cut banana in half long ways but do not seperate. Then slice banana across in 1/2 inch thick pieces.
Add vegetable oil, banana slices and crushed pineapple to frying pan. Toss fruit to coat it and cook on low heat. Mix constantly until banana begins to break up.
Transfer shrimp and pineapple juice into clean frying pan and add 1/2 cup coconut. Begin to cook on medium to high heat for 5 minutes.
Add banana and pineapple mixture to shrimp and cook until juice is nearly evaporated.
Serve over rice.