Top Secret Peanut Butter Frosting
mtnmel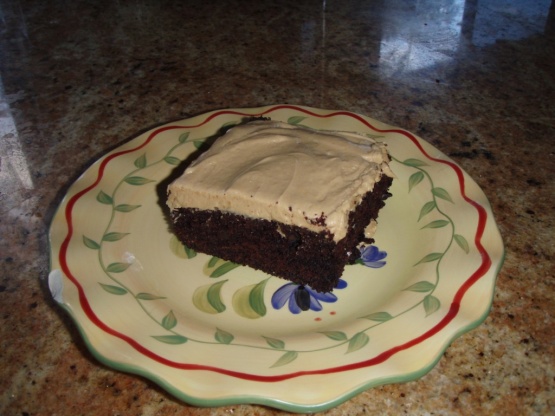 Adapted from a Hershey's recipe, this heavenly concoction starts on the stove-top and ends with countless rave reviews. It has made me famous amongst co-workers and friends! I usually pair it with a buttery Betty Crocker cake mix and then top it off with chocolate curls or drizzled chocolate syrup which has been cut through for a marbled effect.

The secret to the success of this recipe is to first cook the milk and flour to a paste and then let it cool thoroughly. Don't worry about bringing it to a boil, because it won't. And DO NOT add the sugar to the milk! When the mixture is completely cool, beat the remaining ingredients (sugar, peanut butter, margarine and vanilla) in a bowl until fluffy--the sugar will "dissolve" during the process and will not remain grainy. Then gradually beat in the milk/flour mixture until it is incorporated and the frosting becomes fluffy. (I have already substituted butter-flavored shortening for the margarine and it turns out beautifully.) The consistency of this frosting is more like a firm whipped topping, not like a traditional powdered sugar icing. I have a similar recipe that omits the peanut butter and increases the margarine to 1 cup total. Enjoy!
Stir flour into milk.
Cook on low heat in a small saucepan until boiling, stirring constantly.
Transfer to a small bowl.
Cover with plastic wrap and let cool on the counter-top for 30 minutes.
Add the rest of the ingredients and beat with a hand-mixer until fluffy.
Store in the fridge.
*Variations* A softened 8-oz. block of Philadelphia Cream Cheese may be beaten in for a richer frosting. Hershey's Unsweetened Cocoa Powder can be added a tablespoonful at a time until desired flavor/color has been achieved. This produces a rich-tasting chocolate/peanut butter frosting.