Top Notch Oatmeal Macaroons
Katzen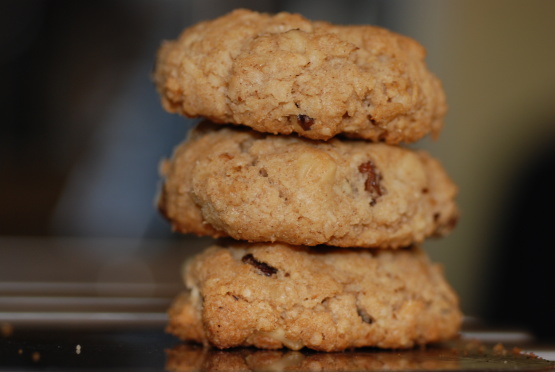 a recipe given to me by a friend that won 1st place at a baking contest.

Made these to have for a monthly group I host & they were a big hit! With the exception of using a bit more than 1 1/2 cups of raisins, I did follow the recipe, though another time, closer to mid-December, I'd like to substitute (as did another reviewer) dried cranberries for the raisins! Thanks for sharing this great recipe! [Tagged & made in Please Review My Recipe]
beat together first 5 ingredients in a large mixing bowl.
Blend the flour, cinnamon, and nutmeg, in the mixture.
Stir raisens,oatmeal, coconuts and walnuts, into the mixture, the mixture will be very stiff.
Roll into 1 inch balls and place on greased cookie sheets.
Bake at 350 degrees for 12-15 minutes.
Cool about 2-3 minutes before removing from baking pan.
ENJOY ! ! !