ljo26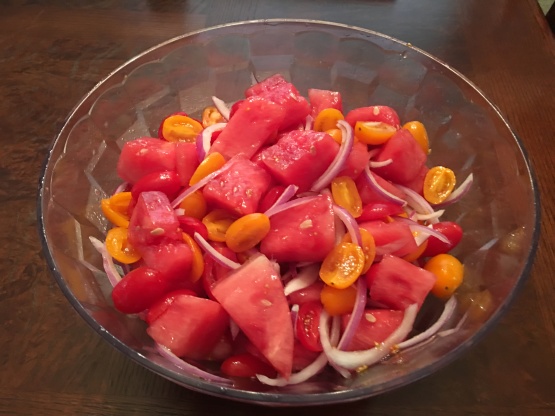 A great picnic/cookout salad. Cooking time is chilling and marinating time.

This was, without a doubt, the best salad we had this summer! Tastes even better the next day. I used seeded plum tomatoes so that the tomatoes had a little bit of substance after marinating time. We get the best watermelons from our farmer's market, and my sisters request this every week. I did mix the vinegar and oil before adding. Just to let you know, we have our first watermelon salad of the summer. The taste is still as wonderful as we remembered!
Combine watermelon and tomatoes in a large bowl; sprinkle with sugar and salt,tossing to coat. Let stand 15 minutes.
Stir in onion,vinegar,and oil. Cover and chill 2 hours. Serve chilled on lettuce leaves, if desired. Sprinkle with with cracked black pepper if desired.