lazyme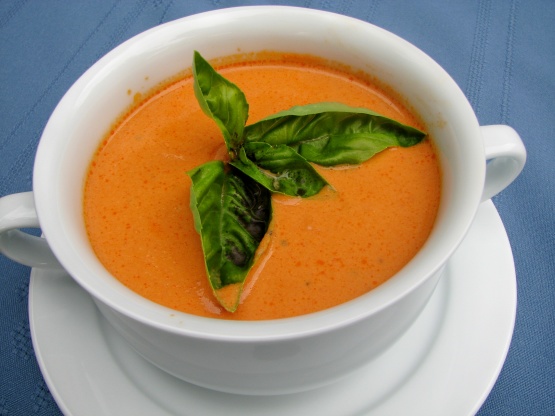 Depending on the season, you can serve this soup hot or cold.It is nice garnished with chopped fresh basil or dill and served with Croutons with Chevre and Red Peppers (see recipe on zaar). Recipe from Goodies to Go.

Outstanding! This bisque was super easy to make. I did change a few things. I used 4 cans of V8 juice instead of regular tomato juice. And I added in the following...1 tbsp. sugar, 2 tsp. dried basil (thanks to another members suggestion), garlic powder & Tonys creole seasoning salt (for a bit of spice). I also, did not wait for the soup to cool before pureeing the tomatoes. I served it with grilled cheese sandwiches and fresh sliced tomatoes. Everyone LOVED it! Thanks for a great recipe. Happy New Year!
Saute the onions and garlic in the butter until soft.
Add the tomatoes, tomato juice, and bay leaves; simmer for 20 minutes.
Remove from heat and let cool.
Drain the tomatoes, reserving the juice, and puree them in a blender or food processor with the cream cheese.
Mix the puree with the reserved juice.
Add the light cream and season to taste with salt, pepper, and lemon juice.