Tomato and Bacon Salad in Bibb Lettuce Cups

This is a simple, tasty salad or appetizer with a nice presentation. You can also use endive instead of the Bibb lettuce. From Gourmet, this will make 24 appetizers.
4 tomatoes, vine-ripened, seeded and chopped fine (about 2 cups)
6 slices bacon, cooked until crisp and crumbled
1⁄4 cup sweet onion, finely chopped (to taste)
2 tablespoons olive oil (preferably extra-virgin)
2 teaspoons balsamic vinegar (to taste)
24 leaves bibb lettuce, outer leaves (about 4 heads)
1⁄4 cup fresh basil leaf, finely shredded for garnishment
basil sprig, garnishment
Directions
In a bowl toss together tomatoes, bacon, onion, oil, vinegar, and salt and pepper to taste. Spoon mixture into lettuce leaves and sprinkle with shredded basil.
Serve lettuce cups on a platter garnished with basil sprigs.
Most Helpful
Such a great salad. I mean it has bacon, so you already had me there! But on top of looking really beautiful, it tasted fabulous too. Really lovely. The perfect contrast between salty, acidic and slightly sweet; love this salad!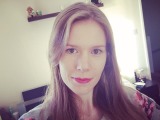 I had 2 slices of bacon that were just begging to be cooked - Lovely salad lovely dressing Thankslazyme for posting

This recipe looks wonderful on the table and tastes pretty good. I felt it was missing some type of soft cheese. Next time, I think I will try it with goat or blue cheese to make it fabulous!