Think Pink - Grapefruit Breakfast Power
Thorsten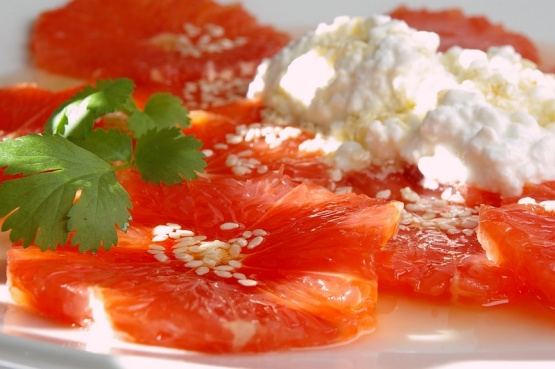 Easy and fast to make and will give you the power for the day. This also makes a nice dessert. Add some fresh leaves of coriander (or peppermint, sage) for an additional flavour.
I made this for a salad tonight, just doubled it for my DH and I. It was very good, I didn't have sesame seeds, so I used slivered almonds and it tasted great. Love the honey.
Peel grapefruit. Be sure that you also have removed the white skin, which is bitter.
Cut grapefruit into thin slices, or cut out the grapefruit filets from the grapefruit.
Arrange grapefruit on a plate.
Put 1 or 2 lobes of cottage cheese on grapefruit.
In a small sauce pan heat honey and sesame seeds. Bring to a single boil for a few seconds. Remove from heat and let stand for about 5 minutes.
Pour warm honey mixture over grapefruit and cottage cheese. Garnish with a few fresh coriander leaves and serve.
Have a great day!