The Best Finger Food Ever
BarbryT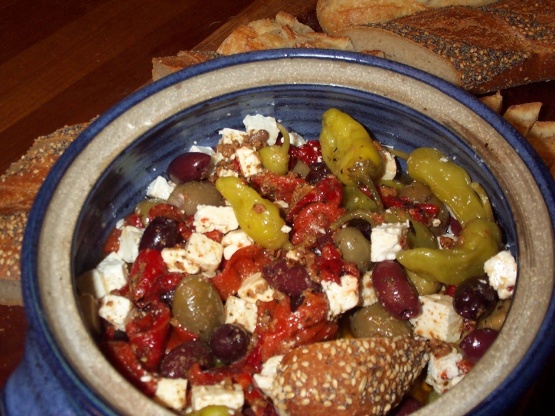 I got this recipe from my boss. She made this dish and left it in the fridge for my friend and I while I was dog-sitting for her. It was so good we ate the whole thing within the first four hours that we were there. The ingredients are so versatile. If you don't like garlic stuffed olives omit them. If you don't like spicy, leave out the pepper, and feel free to add whatever sounds good to you!

Wow, this is great, even with "in a hurry/lazy" changes. I used canned olives and mushrooms, & 1 small hot pepper that I found in the back of the freezer. Then threw everything (except bread) into food processor and hit pulse a few times. We even took this to a fancy schmancy gourmet group, and they loved it.
1⁄2 cup olive oil

1

lemon, juice of
1⁄2 tablespoon red pepper flakes

1

garlic clove, minced

15

garlic-stuffed olives

2

roasted red peppers, cut into strips

8

ounces feta cheese, cut into cubes

12

whole pepperoncini peppers

1

loaf crusty French bread
Combine all ingredients, except French bread.
Eat as finger food and use the bread to dip into the amazing "infused" oil. Enjoy!