Peter J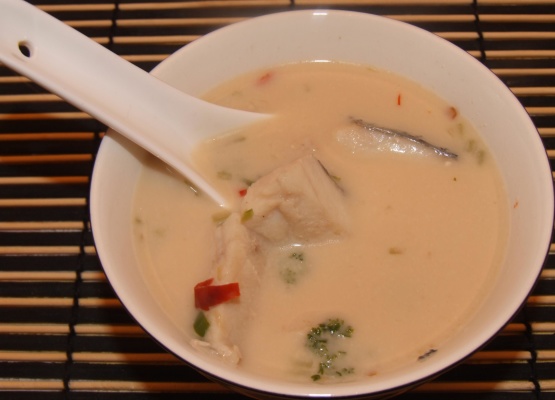 From Moosewood. I think this is a really tasty soup, well worth hunting down the dried galanga. If you can find fresh lemon grass (lucky you!), feel free to substitute it for the dried. This would probably be good with some broccoli added, too.

This was outstanding. I used around double the amount of fish (Trevalla) but that was only to bulk it up a bit because I was making as a light meal, it wouldn't have affected the overall taste so original quantity would also be fanstastic when used as a starter. Flavour was really well balanced and the last time I had a comparable Thai soup was in a very good Thai restaurant, but even then I think this was just a little better.
Simmer the laos root and lemongrass in 1 cup of the stock for 1/2 hour. Add more liquid as necessary (you want to end up with 1 cup of stock).
In a large saucepan, simmer the coconut milk and 2 remaining cups of stock, uncovered, for 5 minutes.
Add the chiles, scallions, cilantro, and fish.
Strain the lemongrass and laos mixture and add that liquid to the pot (you can toss out the herbs).
Simmer, uncovered, until the fish is just cooked. Remove from heat.
Stir in the lime juice and the fish sauce, adding more if desired.