Bergy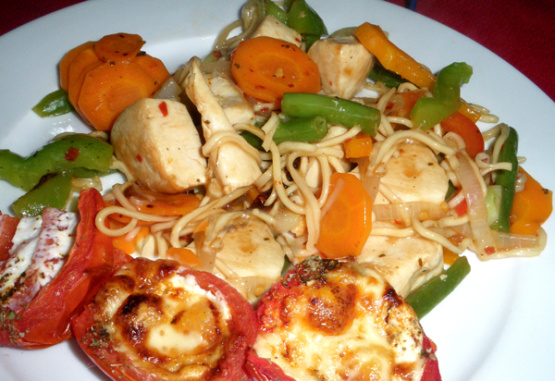 This is my mom's recipe, I make it all the time. Hope you enjoy it as much as we do!
Cut your chicken into bite size pieces, place in a large frying pan or wok with 1/3 Cup of water at medium - high heat.
Add coconut oil, honey, lime juice, garlic powder, ginger and basil.
When your chicken is cooked, add soy sauce, onion, red pepper, carrots and other desired cut up vegetables.
Put the lid on and cook for 7 minutes on medium - high heat.
In the last 2 minutes of the above, add crushed red pepper, cloves of garlic (use a garlic press).
In a small bowl mix cornstarch and 1/2 half cup of water.
When the 7 minutes are up add the cornstarch and water to thicken the sauce.
Serve with capellini noodles or jasmine rice (add coconut oil during cooking).