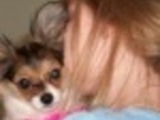 My family loves spicy food and these have a bit of a kick. You can tone it down a bit by leaving out the jalapeno and exchanging some other cheese for the Pepper Jack.
Directions
Sandwich Spread:.
In a medium mixing bowl, mix together until well blended the mayonnaise, sour cream, sugar, cilantro, red onion, garlic and jalapeno. Add salt and pepper to taste. Chill for at least 4 hours or as long as overnight to let flavors blend.
Building Sandwiches:.
Very lightly toast the 8 slices of bread. Spread the sandwich spread mixture on one side of each toasted slice. On 4 slices of prepared bread layer the turkey, ham, jack cheese, Colby cheese, tomato slices, avocado slices and black olives. Top with remaining 4 slices of prepared bread.
Using a sharp serrated bread knife, cut each sandwich on diagonal from corner to corner. Make 2nd cut on opposite corner, making 4 sandwich segments. Secure segments with toothpicks and serve.
Most Helpful
Phenomenal sandwich. I think it is the sandwich spread. I made it on a pita. Next time I will tuck in some romaine lettuce. Great sandwich.
When you bring your lunch to work everyday, it gets hard to fine something "different". This was a wonderful surprise and a very fun brown bag lunch. the sandwiches were spicy, attractive, filling, and the talk of the lunch table. My husband and I thank you for sharing this recipe.