PdxBarb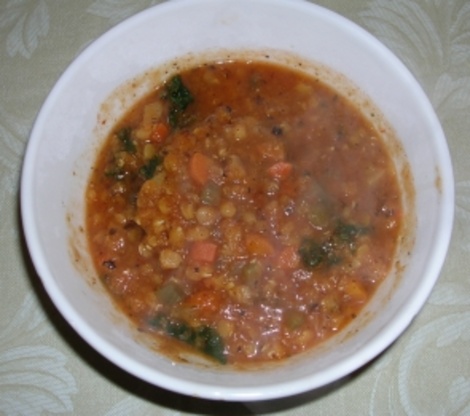 This is a hearty dish, that tastes great with a nice piece of crusty bread. You can definitely vary the kinds and amounts of veggies in it.

Top Review by Gerry
Lentils are a recent addition to our menus - found we enjoy lentil dishes and soups when eating a wonderful soup away from home a few years back.Now have jars and jars of assorted lentils in my kitchen. I followed your instructions blanching the kale assuring it remained crunchy - I like a bit of crunch too. Added the optional vegetable bouillion. Next time may add homemade chicken stock in place of the water. Yes there will be a next time on this one - thank you Barb.
Chop all vegetables. Take leaves off of kale and shred into smaller pieces.
Put everything into a saucepan. Cover and cook at medium heat for 30 minutes.
If you like crunchy celery, don't put it in till ten minutes before the end of cooking time. Otherwise, toss it in at the beginning.
You can put the kale in right away, but I prefer to blanch mine first (1 minute in boiling water) to remove any bitterness. I don't add the kale till about ten minutes before the end.