Jackie 6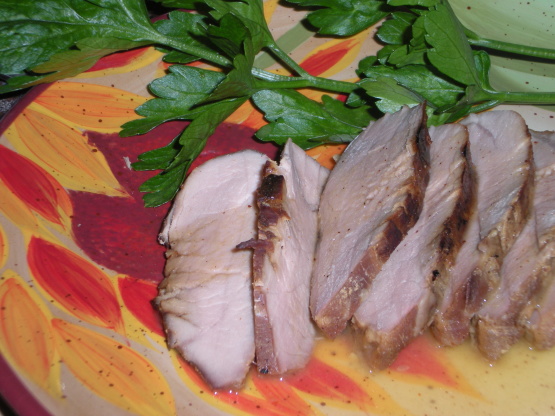 Great for BBQ season, this 4 ingredient marinade and sauce is perfect with pork tenderloin. I always serve with a ranch veggie pasta salad. (The sauce is really good on that too!) This recipe came from a '00 Quick Cooking. Cook time does not include the 4 hour marinating.

This was fantastic. We'll do it again soon. Only had one tenderloin for the 2 of us, so cut the marinade in half. Definitely didn't save enough of the marinade for the drizzling sauce. Will save more next time, it was the finishing touch to a great piece of meat. Thanks for a wonderful (& easy) recipe.
Place tenderloins in a large plastic bag or shallow container.
In a bowl, combine the remaining ingredients.
Set aside 2/3 cup of the marinade/sauce.
Pour remaining marinade over pork; turn to coat.
Seal or cover and refrigerate for at least 4 hours.
Grill pork, covered, over indirect med.
heat for 8-9 minutes on each side until internal temp is 150-155 degrees.
In a saucepan, warm the reserved sauce.
Slice pork and drizzle sauce over the top of each serving.