Ms Bossy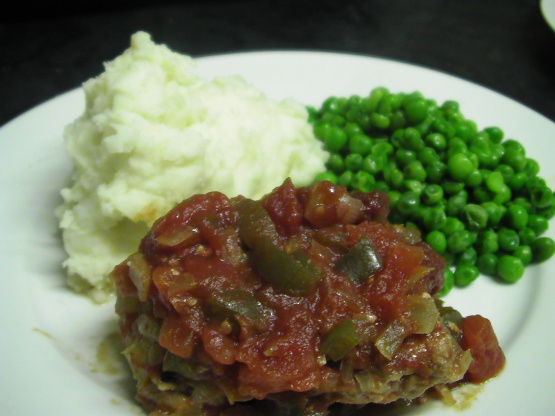 Fancy enough for company, these mouth-watering pork chops are good for family too

Delicious pork chops! The sauce was sooooo good over rice. I followed the directions except I seasoned my chops with Emeril's Essence and pepper and browned them in a bit of olive oil first.I had 7 boneless pork loin chops and there was plenty of yummy sauce for them. I added minced garlic and shallot with the other vegetables and followed it the rest of the way. Served it with buttered white rice (with some fresh parsley tossed in after cooking) ,brown sugar buttered baby carrots and Grands! biscuits. A great meal worth repeating. I have this recipe in a cookbook called "TOH'S Slow Cooker Favorites" and I had been meaning to try it for a long time. The great reviews convinced me to try it today and I'm glad I did-you all were right. Thanks!
Place chops in slow cooker.
Sprinkle with salt and pepper.
Add onions, celery, green pepper and tomatoes.
Combine ketchup, vinegar, Worcestershire sauce, lemon juice, bouillon and sugar.
Pour over vegetables.
Cover and cook LOW 5-6 hours
Mix cornstarch and water til smooth.
Stir into liquid in slow cooker.
Cover and cook on high 30 minutes til thickened.
Serve over rice if desired.