Sticky Pork Chops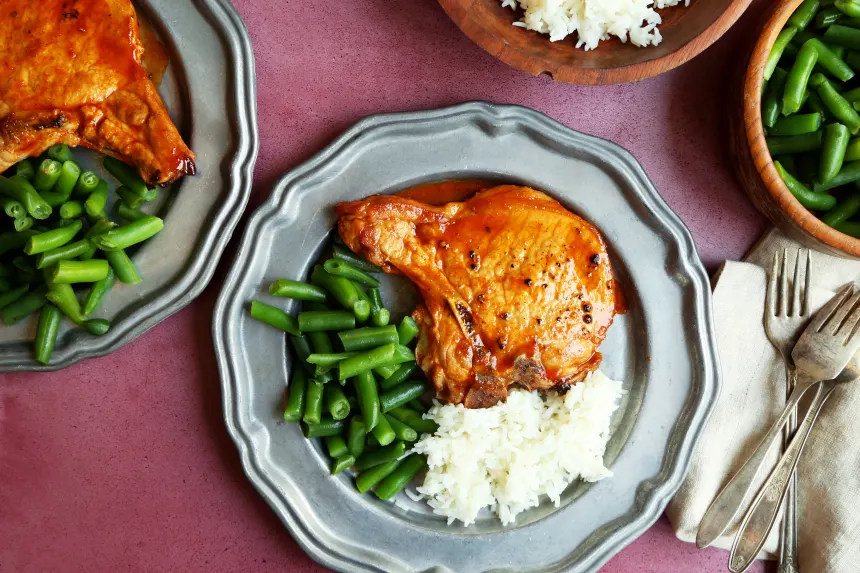 photo by Jonathan Melendez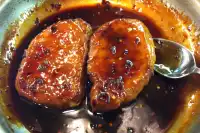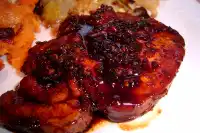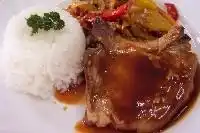 Ready In:

15mins

Ingredients:

6
directions
Heat frying pan over medium heat.
Cook meat for 2 minutes each side, or until meat is well browned.
Remove meat, set aside - Keep warm -
Add cooking wine, soy sauce, ginger, chili sauce/flakes and honey to the same pan without washing the pan.
Cook for 3 minutes.
Return the meat to pan and cook on each side for 1 minute.
Simmer until the sauce thickens, and pork is cooked through.
Serve with rice and greens.
Questions & Replies

Reviews
These are totally TDF! I don't eat pork so I used skinless, boneless chicken breasts. This recipe is the best thing that ever happened to that chicken! I din't have any Chinese wine or sherry, so I used some sweet red wine I had lying around. I also held back on the chili flakes, I have a real wuss for a BH when it comes to hot and spicy food (he's a Brit, what can I do?). This was such a quick and easy dinner last night, I'm going to be making this often! Last night I served this over some leftover couscous, talk about fusion cuisine!

 

Thanks for posting this excellent dish. I used shoulder chops, they need longer cooking so I browned and simmered them for 40 minutes, then added all the sauce ingredients and simmered that for another 15 minutes. The only thing I added was a large crushed garlic clove, I couldn't help it! I doubled the sauce and served the pork with noodles and a plain vegetable stir-fry.

 

I can't wait to make these again!! Everyone liked the sauce and licked their platters clean. I doubled the sauce because my pork chops were very large. With the leftover sauce in the pan I put 3 cups of cold rice into the pan and reheated the rice. Then served the rice along side the pork chop. The sauce is SOOOOOO good!!! Thank you!

 
Tweaks
A good recipe using staples from the kitchen. I doubled the sauce and used a good quality chili-garlic sauce instead of chili sauce. Doubling the chili content (4 tbs) made it really hot, still yummy, but really hot. Next time I would want to make this sauce ahead and marinate my pork to allow more flavour in the meat.

 

I used this recipe for pork tenderloins and loved it. I doubled it so we would have extra sauce. I used sweet chili sauce and asian hot sauce together and substituted beef brother for the wine (I didn't ahve any on hand and didn't feel like running to the liquor store.) I browned my loins and set aside before making the sauce and allowing to reduce. I then returned them to the oven safe pan, turned to coat, and then covered and roasted in the oven until done. Then I removed the loins and covered to rest while I reduced the sauce to a thick glaze. Served with some stir fried veggies and rice, drizzled with the glaze, and everyone loved it. Thanks for inspiring my dinner!

 

We tried this last night, but I was only cooking for two and decided to make two pork-chops and keep the sauce amount the same. I used chili paste instead of chili sauce (which is MUCH hotter apparently). Oh my gosh! It was so hot! DH about had a heart attack; though he devoured it, he drank about 5 glasses of water and triple helpings of rice and just stuffed the greens in his mouth to quell the fire. I've been craving very spicy hot food so this was perfect for me, though admittedly it WAS very spicy :) The chops were very tender, perhaps because I always marinade them in a salty milk brine for a few hours before. Good recipe, though next time if I use chili paste I'll probably use less, haha.

 

This yields a nice sauce, although I used 1/2 c. white wine, which I would NOT recommend b/c the sauce never thickened. Instead, if you are going to use extra wine, I'd recommend that the sauce be doubled uniformly. Also, I used 1 and 1/2 Tbsp. of chili powder instead of the chili sauce/flakes, and for step 7, I slow cooked the pork for 10 minutes, covered, on the LOWEST setting on my stove. I served with baked sweet potatoes and steamed vegetable medley. Thanks for posting.

 
RECIPE SUBMITTED BY
(READ MORE ABOUT ME AND MORE RECIPES AT vanessafrida.livejournal.com) Thanks for clicking on my name and finding out more about myself. I stumbled upon 'zaar by chance, and I have been hooked ever since. It is just so much easier surfing online for a recipe then flipping through a zillion cookbooks. I am a big fan of healthy meal, and i love to use heaps of garlic in my food. Guess it is the asian blood in me. :) And I am a real sweet tooth, and I'm constantly on a lookout for cake and biscuit recipes. Have a look at the recipes i have posted, and tell me what you think. Thanks!
View Full Profile