diner524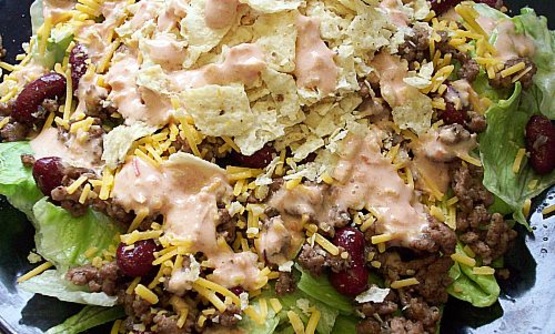 This is my favorite taco salad recipe, and the reason it's so good is the combination of chunky salsa, mayonnaise, and sour cream for the dressing. I vary a lot of things (might add black beans or chilies or beef instead of turkey), but I stick with this dressing if possible because it's heavenly. In fact, if I don't have a dressing for a salad I'll whip up this combination. You can always leave the dressing separate from the salad in case people want to dress their own or you are taking the salad somewhere and don't want the salad to get soggy.
Delicious taco salad!!! I just love, love this type of dressing for taco salad instead of the Thousand Island dressing most recipes call for. I have been making a similar dressing for mine but just using the mayonnaise and salsa and I love the addition of 1/2 sour cream. I did take some liberties as your introduction states to fit my own personal preference. I used ground beef and onion sauteed together. I then added kidney beans instead of the black olives and avocado. This made for an excellent lunch today!! Thanks Amy for sharing this recipe!! Made for Spring PAC 09.
Combine salsa, mayonnaise, and sour cream in a small bowl.
Cover and refrigerate until ready to serve.
Toss together the lettuce, tomatoes, turkey, cheese, olives, and avocado in a large bowl.
Add salsa dressing and toss, being careful not to mash avocado cubes.
Top with crushed tortilla chips.