Prep 10 mins
Cook 35 mins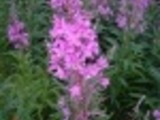 I was looking online for a good cornbread recipe and came across this one from Food Network, Sara's Secrets. It is super moist and easy to make. You can't mess it up! It is definitely a sweet cornbread. Just how I like it. Every time I make chili, this is the cornbread we have with it. NOTE: the amount of vanilla is correct-it is called Sweet Vanilla for a reason!!! We love it...hope you do too.
Directions
Preheat oven to 350 degrees F.
Combine the dry ingredients in a large bowl.
In a small bowl, mix the eggs, buttermilk, and vanilla with a wooden spoon.
Add liquid mixture to the dry ingredients and pour the melted butter over the top of the batter. Stir just until all ingredients are moistened yet thoroughly blended; do not to over mix.
Pour the batter into a greased 8-inch square Pyrex pan.
Bake in the preheated oven about 35 to 45 minutes, until golden around the edges and a toothpick inserted into the center comes out clean.
Let stand 15 minutes before cutting to serve.
Most Helpful
Not sure what the other reviewer is thinking - because this is awesome! I thought the amount of vanilla in this was "just right"! Mine also turned out perfectly moist and thoroughly cooked through - even in the center. Different strokes for different folks, I guess! Give this a try, you will NOT be disappointed!

Basically, this is sweet for a corn bread which is nice, but the vanilla is VERY strong. I would say over powering. If I did this again I would use maybe 1-1.5 TEAspoons vanilla and I think this would be MUCH better. Mine was also a bit underdone and grainy tasting (in the underdone section), despite the fact that I did the "doneness" test and the knife came out clean. And that it was golden brown all over. I'm trying to reheat it now. We'll see how it goes. But the outer edges were very fluffy and moist. I suppose I would only caution the baker to OVER cook this and to use WAY les vanilla. It could work. I don't know. It's okay. We'll eat it. It's maybe 2.5 stars. Updated to add that this sat out all the night in the oven (turned off!) and was much better the second day. Still the inner most part was not done, despite an overall brown appearance and a second heating, but the vanilla, though still overpowering was managable enough to eat. Perhaps this can not be eaten warm? At any rate, I don't think that I would make this again as is, but I would tweek it with the vanilla and cook for longer...