Sweet Spicy Cucumber Salad
MsSally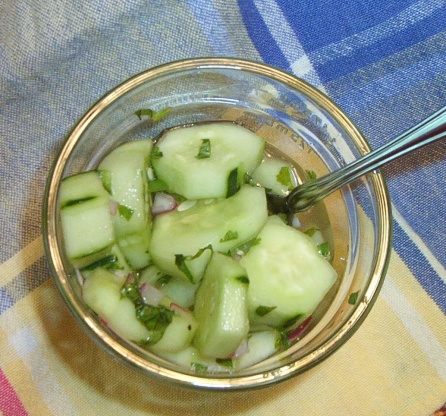 An interesting (low fat) combination of sweet/spicy/hot. If you like spicy stuff, try it!

Alright-- my parents had a ton of cucumbers in their garden that needed to be used. This recipe looked promising. I'm sure if I liked the flavor, I would have given it higher reviews. This is *exactly* how it tasted... bite, bite, sweet, bite, bite, swallow, big kick of spice.
I would actually call this a tangy-sweet spicy salad. I would not make this again.
Place cucumbers, onion and minced jalapenos in a large bowl.
In a seperate bowl, whisk together all remaining ingredients; pour over cucumber mixture and toss well to coat.
Chill at least 3 hours before serving.