Sweet & Savory Butternut Squash and Wild Rice Sauté
chiclet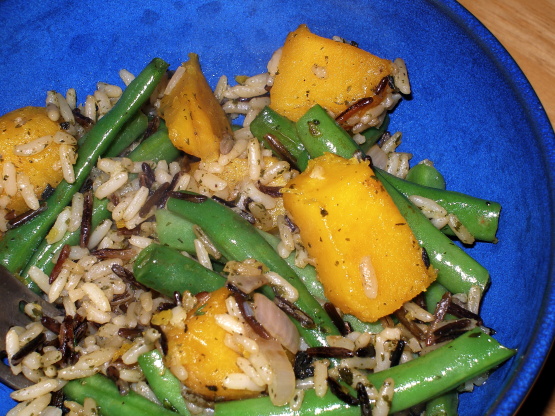 I came up with this recipe while I was trying to get rid of some leftovers and refrigerator odds and ends. The crisp beans, creamy squash, and savory seasonings complement each really nicely. If you have rice and squash already cooked, it's a snap to put together. Serves 2 as a main dish, 4 as a side.

My roomie and I really liked this. I had to make some changes based on what I had on hand: 1) I omitted the sage, because I realized too late that I had none in the house, 2) used acorn squash instead of butternut, and 3) used yellow onions instead of shallots. Next time, I will make sure to have sage handy because we were both sure that the sage is what must make the difference. As it was, without the sage this was good -- *with* the sage (and maybe with a bit more onion and garlic to boost the savory aspect), I think it would be fantastic.
1 1⁄2 cups baked butternut squash, cubed (*see note)
1 1⁄2 cups cooked wild rice (I used Near East brand) or 1 1⁄2 cups cooked brown rice, pilaf (I used Near East brand)
1⁄2 lb green beans, trimmed and cut into bite-sized pieces

3

garlic cloves, minced
1⁄3 cup shallot, chopped

1

tablespoon olive oil

1

teaspoon thyme

1

teaspoon sage
salt & freshly ground black pepper
Warm oil in a large sauté pan over medium heat.
Place green beans and shallots in pan and cook 3 minutes.
Add garlic, squash and herbs; cook another 2-3 minutes, until beans are crisp but tender.
Add rice and cook until heated through. Season to taste with salt and pepper.
*NOTE: To roast squash, cut in half lengthwise and scoop out the seeds. Spray cut surface with olive oil, and place cut side up on a baking pan. Place pan on center rack in a preheated 400°F oven and roast 45 minutes, until fork-tender. When squash is cool enough to handle, scoop out flesh and cut into cubes (1/2-1 inch).