So simple and so delicious. I often make these in a big batch and put them into clear bag with nice ribbon and give them as a gift. People are always impressed. They are great on salads, desserts or just as a healthy snack.
Directions
Preheat oven to 350°F.
In a medium bowl mix sugar, cinnamon, paprika, cayenne. Add pecans and toss well.
Drizzle honey and oil over spiced nuts and mix well so they are evenly coated.
Spread on greased baking sheet and bake 7 - 10 minutes until sugar is caramelized.
Let it cool for 5 minutes and take it of the sheet otherwise they might stick to the bottom. If that happens put it back in oven to melt the sticky sugar.
Reviews
Most Helpful
Made these to give away as Christmas gift bags and also as a snack at my holiday party. They were great. Sweet and a little spicy but not overpoweringly so. The caramel coating makes them seriously addictive. A definite keeper for entertaining, thank you. [Made for I Recommend Tag]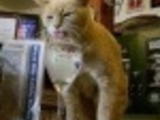 I made these nuts for my dad to nibble on at work or while watching tv and he really loved them. The sweet and spicy contrast is perfect in these and they're really crunchy with all that delish caramel. :) I loved how easy these were to prepare and how no fuss the recipe was. THANK YOU SO MUCH for sharing a real keeper with us, Hanka. Ill make this again for sure!
Made and reviewed for Aussie/NZ Recipe Swap #58 November 2011.

These are so awesome! They were done in a flash and will be gone as quickly. I lined a cookie sheet with a baking mat and had no problems with the nuts sticking. After they came out of the oven and cooled briefly, they were placed on waxed paper to cool completely. We are enjoying them just for snacking and I did toss some on a salad today at lunch. These would make an excellent gift for the holidays. Made for Aussie Swap.