Best Ever Banana Cake With Cream Cheese Frosting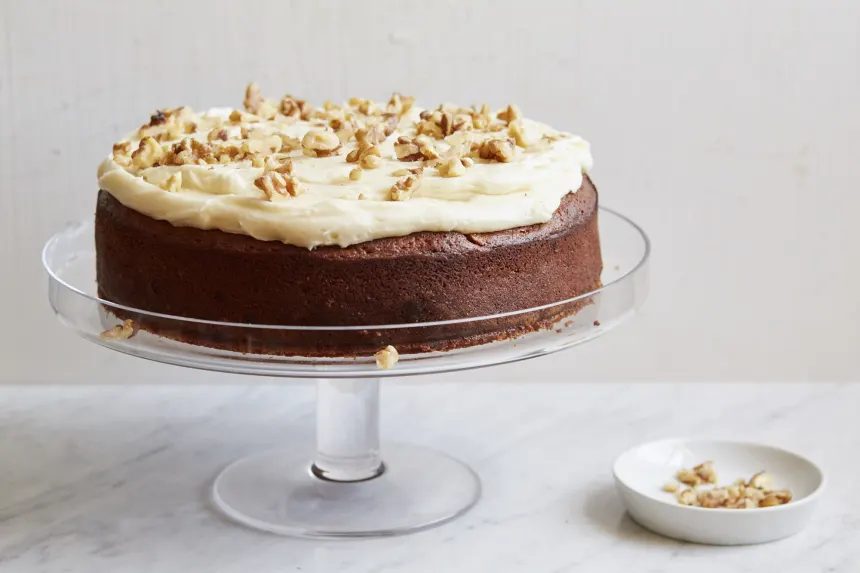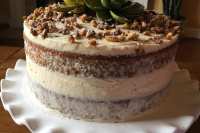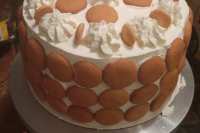 Ready In:

1hr 15mins

Ingredients:

15

Serves:

16
directions
Preheat oven to 275°F (135C).
Grease and flour a 9 x 13 pan.
In a small bowl, mix mashed banana with the lemon juice; set aside.
In a medium bowl, mix flour, baking soda and salt; set aside.
In a large bowl, cream 3/4 cup butter and 2 1/8 cups sugar until light and fluffy.
Beat in eggs, one at a time, then stir in 2 tsp vanilla.
Beat in the flour mixture alternately with the buttermilk.
Stir in banana mixture.
Pour batter into prepared pan and bake in preheated oven for one hour or until toothpick inserted in center comes out clean.
Remove from oven and place directly into the freezer for 45 minutes. This will make the cake very moist.
For the frosting, cream the butter and cream cheese until smooth.
Beat in 1 teaspoon vanilla.
Add icing sugar and beat on low speed until combined, then on high speed until frosting is smooth.
Spread on cooled cake.
Sprinkle chopped walnuts over top of the frosting, if desired.
Questions & Replies

I'm curious about something. The baking instructions give that the cake should be baked in a 9 x 13-inch cake pan and it yields 16 servings. If this is the recipe, why is the cake that is suppose to go with this recipe what look like about a 9 or 10-inch round cake, single layer and, its hard to tell exactly from the picture but may possibly have been baked in a 3-inch tall cake tin? Why give instructions for a rectangle cake but show a round one?

 
Reviews
yum yum! this recipe is delicious. I've made this recipe twice. The first time I followed the recipe exactly and the cake turned out great! The second time I made cupcakes (baked at 275 for 35 minutes) instead of a cake. I also cut the sugar back to 1 and 3/4 cups and they were plenty sweet enough. I didn't put them in the freezer the second time and they still turned out super moist. This is definitely a keeper!<br/>Sept. 24, 2011 - I've made this cake several times and every time its turned out great. Today I tried substituting pumpkin puree for the banana and added some cinnamon, allspice and nutmeg and it turned out fantastic! This is such a versatile cake. You won't be disappointed!

 

To say this is the "Best Ever Banana Cake" would be an enormous understatement! This cake was FAN-TABULOUS!!! It took me back to my childhood, when we would get the little square banana cakes from the local deli. I made very slight changes. I substituted Splenda for the Sugar in the cake and for the icing, I used 1 1/2 cups of powdered sugar and 1 1/2 cups Splenda and it was soooo smooth and tasty. I also didn't have buttermilk, so I added about 2 teaspoons of white distilled vinegar to whole milk. The recipe makes a lot of batter so I made two 9x9 square pans of the cake. I brought one into work - it was gone in the matter of seconds! Thanks for the recipe that will most definitly remain in my top 5 cake recipe box!

 

This recipe is awesome!! All the hard critics at my house approved!! I did change the ratio of sugar and bananas. I used 1 1/3 cup sugar and 2 cups of ripened bananas and also used Mexican vanilla. For the cream cheese I only used 1/2 cup of icing sugar and added cinnamon and cardamon to it!! It was perfect not too sweet and so moist and gives it that extra boost!! Love the idea of it going into the freezer right after it was baked to make it more moist!! Also helps with the crumbling when your frosting the cake!! This will be my go to recipe and will definitely tweak it again to my liking!

 

This was a fabulous cake..... REALLY FABULOUS!!! It is no wonder it has been made and reviewed so many times! Its name is accurate! I followed the recipe for the cake to the letter using 4 bananas - the recipe is well written and easy to follow. It took 1 hr. 10 minutes in my oven to be perfectly done. I did cut back a bit on the frosting, using only 1/4 cup butter and 1/2 package of cream cheese, 3 cups sugar and a few tablespoons of milk to mix. I did not use the freezer trick because it was late when I took it out of the oven and I just went to bed and frosted it the following morning. It was still super moist. I'm looking forward to making this cake again very soon....it is delicious.

 
Tweaks
This was the first recipe I have given five stars. This cake was wonderful, incredibly moist and the frosting incredibly decadent. Everyone who had it loved it and my husband says this is definitely a keeper. My only change, and it was minor, was adding rum to the icing instead of vanilla. Hey...I live in Jamaica. Rum is a lot easier to come by than pure vanilla extract.<br/>I will make this again and again. Thank you

 

This recipe deserves its title! For those of you who would like to make a layered cake, here's what I did: baked at 275; used 3, 9 inch round cake pans which all fit into the oven simultaneously (I rotated the pans 2 times to allow for even baking and filled each pan halfway which was plenty of batter for each pan); used 1 and 3/4 cups sugar; used 5 bananas; substituted nonfat yogurt for the buttermilk - it's a healthier option and added moisture to the cake; cooled the cakes on the counter (the cake was super moist without using the freezer trick and the cakes cooled quickly due to the batter being separated between 3 cake pans); and used the exact measurement for the icing. The amount of icing was perfect for spreading between layers, the top of the cake, and side. The icing complimented the reduced amount of sugar in the actual cake. I live at sea level so for those of you who live at higher elevations may need to adjust the baking time, baking temp, and measurements accordingly. The entire cake was gone in 1 day and everyone kept going on about how good it tasted - even my uncle who has declared many times in the past that he doesn't like cake! I hope this review is helpful. Many thanks for posting this recipe :)

 

Your photo shows a 1 layer, round cake, maybe an 8" - but your instructions say to use a quarter sheet pan. Your recipe says it serves 16, but one 8" cake layer serves about 7-8 at a birthday party or 15 at a wedding and a 2 layer 8" cake serves about 15 at a birthday party or 30 at a wedding. A quarter sheet cake serves 24 2" square servings at a birthday party (9"X13" cut into 4 rows by 6 rows), or twice that many (9"X13" cut into 1"X 2" pieces) for 48 servings at a wedding. Also, do you place the hot cake AND the hot cake pan, just out of the oven, into the freezer? Your instructions don't explain how to do this. Or, do you wrap the hot cake in saran, and then freeze? Freezing a cake can NOT make it moister. Once a cake is wrapped airtight, hot or cold, it's impossible for any more moisture to enter it, penetrating an airtight barrier. If you don't believe this to be true, please try a little experiment – freeze exactly 1 c. of water in an airtight container, thaw, and measure how much liquid is in the container. You don't have any more moisture after freezing than before. Freezing did NOT create more moisture. Freezing a hot cake is not advisable. Wrapping a cake about 30 minutes out of the oven, not steaming or completely cold, will trap in moisture. Placing the cake back into the cake pan, upside down, and leaving it at room temp for 1 day, gives the moisture in the cake time to distribute evenly to the top and edges. This can't happen in the frozen state, as moisture molecules can't move around. Please clarify your statistics, and directions, so they make sense.

 
RECIPE SUBMITTED BY
About me....well...let's see,right now I am a married, stay-at-home Mom to two beautiful children, a 10 year old daughter and a 7 year old son....they are the "lights" of my life, which I think I pretty much spent waiting for them! I feel so very lucky (and truly blessed) to be their "Mommy". I don't know that I have a fave cookbook, (and I have rarely opened one of the many I have, since finding Zaar.) I just LOVE recipes and have been "acquiring" them since I was a teenager! Actually I think I bought my first cookbook in like grade two or three, a cookie recipe book from one of those scholastic book orders!
View Full Profile