Sweet and Sour Cucumber Dill Salad
Naoko V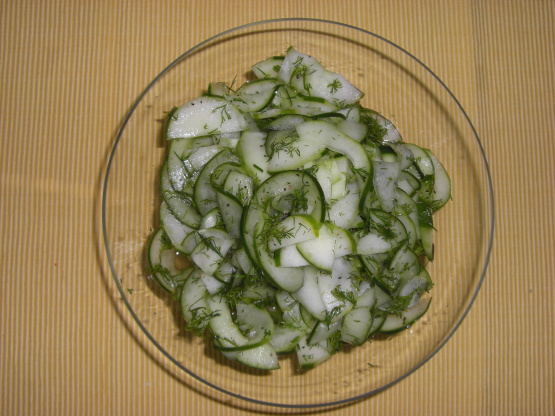 I cut this from a U.S. magazine, but not sure which one as I've had it for quite some time. This summertime dish can be prepared and chilled two hours before serving. The recipe calls for English cucumbers but you can use regular ones if you can't find the English ones. You want a total of about 1 1/2 lbs. of cukes. Cooking time is chilling time.

Boy do we LOVE this at our house! I have made it dozens of times with the following adjustments: first, I do PEEL the cucumbers and slice them with a mandoline, second I let them sit about an hour in the salt to drain off maximum moisture. Also, I use dried dill. This salad is super. Thanks.
Place cucumber slices in a colander.
Sprinkle with salt; toss to coat and let stand 15 minutes, stirring occasionally.
Meanwhile, stir vinegar, dill, sugar, and pepper in large bowl until sugar is dissolved.
Drain cucumbers well and pat dry.
Add cucumbers to dressing and stir to blend.
Refrigerate at least 30 minutes and up to 2 hours.
Serve cold.