Prep 10 mins
Cook 30 mins

Directions
Mix salt, pepper, ginger and flour.
Dust chops with mixture.
In heavy skillet, brown chops lightly on both sides in hot oil.
Lower heat and cook until done, about 20 minutes.
Most Helpful
I have had this recipe just hanging around in my cookbook for a while and stumbled upon it today when deciding what to do with the pork chops that were thawing. Pork is really starting to bore me so I needed a new recipe to try and we really liked how these tasted. The meat was moist and seasoned just right. The ginger was not at all overpowering and in fact added a nice flavour. Added bonus, it's a nice quick recipe for a weeknight meal. Thx for sharing this ElaineAnn, I will definitely make again.
Delicious and easy way to have pork chops. I've done them this way in the past, without the ginger. I really liked the extra boost the ginger gave to the chops. I want to point out that the ginger did not overpower the taste of the pork, either. Great recipe. Thanks! (I used bone-in pork loin chops.)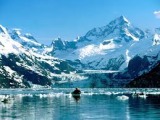 Some skeptics in my famiily tithered if I had lost my mind to put ginger on fried pork chops. My husband hates when his wife is right, too.