Swedish Pancakes - (Pannkakor)
Bergy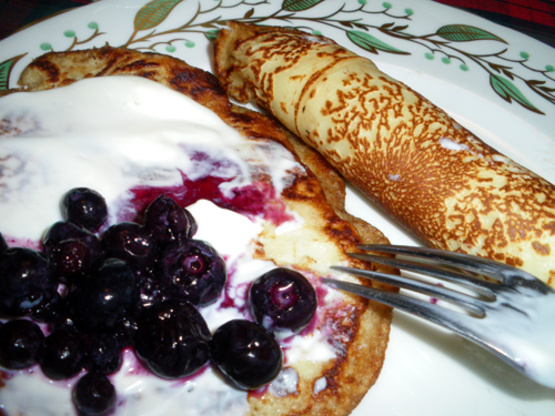 My grandma Anderson would make these for my brother and me when we would come for our weekend visits. She taught me how to make these so I could keep her recipes alive and hand them down to my children. Keeping her recipes in my Family's cookbook keeps her memory alive for me and my brother.
Whisk eggs together before adding rest of ingredients.
Place 1 teaspoons margarine into large frying pan or a flat griddle.
Set stove on medium high heat.
Add just about a 1/2 cup of the batter to the frying pan.
Making sure the whole bottom of your frying pan is covered with the batter.
Turn batter over when top looks done.
The pancakes should be very thin, looking like crepes.
Take out of pan and set aside to partially cool on waxed paper until you are done with the rest of your batter.
Take each pancake and spread 1 tablespoon of lingenberry preserves or any type of jelly, jams, or preserves you have on hand inside pancake and roll closed.
Place rolled pancakes onto plate and sprinkle with powdered sugar.
Serve and enjoy.
ANOTHER VERSION OF THESE WONDERFUL PANCAKES IS:.
Spread 1 tablespoon of cooked ground beef, shrimp or crab meat filling into each cooked pancake.
Roll up pancakes and place tightly together in a 8" square baking pan.
Top with a blend of your favorite shredded cheese to put on top.
You can bake them at 400 degrees F. for about 5-10 minutes. Just until cheese is melted.
Serve and ejoy.