Swedish Melon With Red Raspberry Puree (Melon-Och Hallendessert)

A cool and refreshing dessert, salad or appetizer to cut the heat of summer! Especially good if you soak the melon balls in rum first! But this is optional.
Directions
Cut melon in half and scoop out seeds.
Scoop out melon with melon baller, or you can cut into small bite-sized cubes.
Place in a serving bowl.
At this point you have a choice. You can marinate the melon in a little rum for an hour or more, or you can just continue.
If you marinated them, pour off any extra rum.
Now, place raspberries in sieve over small bowl, and force berries thru sieve to remove seeds. (You can do this with the back of a spoon or just use your fingers.).
Add sugar and lemon juice to seived raspberry puree.
Pour raspberry puree over melon and chill for several hours.
Serve from bowl, or serve in individual dessert dishes.
You can even serve this with a little ice cream or whipped cream. But it's just fine on it's own.
Most Helpful
This was wonderful and refreshing. I made this and had it in the refrigerator for guests to help themselves to during a busy wedding weekend. Worked fantastic for that! This was yummy and so refreshing in this heat! *Made for Bevy Tag*

Agreed, raspberry and melon flavors seem to go together extremely well. I added vodka, not rum, and substituted splenda for the sugar. Waited patiently for melon to ripen before making the recipe, which was also important. I really like the texture of raspberry (and, by the way, strawberry) seeds so after I sieved the juice I just added the pulp and seeds as well (seemed a shame to waste them too). Thanks!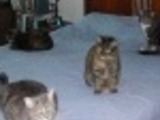 Oh, I jsut love the raspberry flavor the melon has! I did cheat a little and used raspberry syrup. Love it!